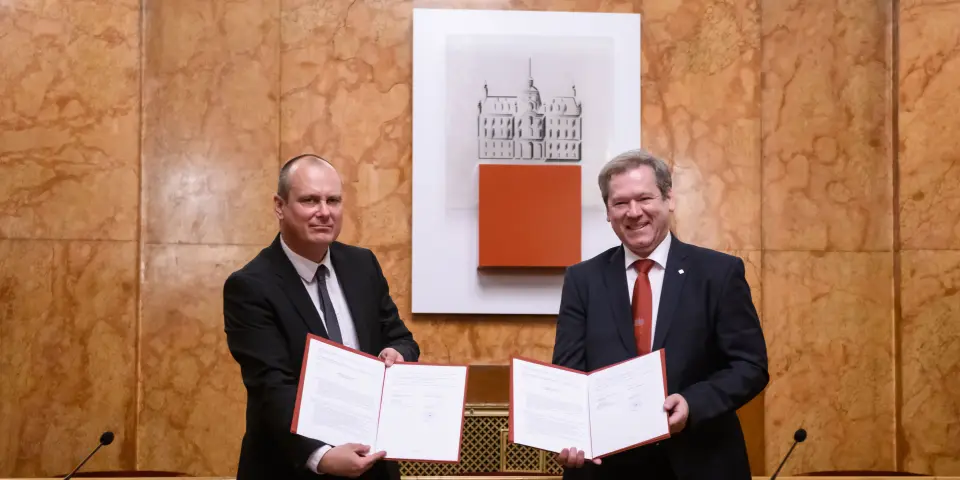 National biology institute becomes Ljubljana uni's associate member
Ljubljana, 27 August - The National Institute of Biology (NIB) has joined the University of Ljubljana as an associate member in a bid to strengthen the two institution's cooperation in science, research and development, and in teaching.

The contract on the NIB's associate membership was signed by the university's Chancellor Igor Papič and the research centre's director Matjaž Kuntner on Thursday.
The chancellor and the director told the press that associate membership was a new milestone in the two institutions' joint endeavours.
"The cooperation with the NIB has been successful so far and we believe it will be ever more successful and deeper from now on," said Papič.
Kuntner added the NBI's associate membership created "a new basis for scientific and pedagogical excellence in the Slovenian and international environments".
The new status will enable NIB researchers to teach at the university while university professors will do research at the NIB in exchange, explained Papič.
The new partnership will also enable the two institutions to intensify cooperation in joint research programmes in Slovenia and abroad, and better transfer the know-how to businesses.
The university will also support the Biotechnological Hub of the NIB, a major investment into new research infrastructure.
At the same time, the Ljubljana University's Incubator, which offers support to start-ups, and the incubator of the NIB's Biotechnological Hub will jointly support new biotechnological companies.
Papič said it was the university's wish to formalise cooperation with Slovenia's four leading research centres.
Apart from sending the NIB an invitation for associate membership, it has also sent them to the Jožef Stefan Institute, the National Chemistry Institute, and the Research Centre of the Slovenian Academy of Science and Arts (ZRC SAZU).
The chancellor hopes the NIB's joining the university - the older and largest of Slovenia's three public universities - will now encourage the others to follow suit.
"As you know, the university has been making an effort for a while for formal integration with other important research centres to further intensify cooperation," he explained.
The NIB, or its predecessor, was set up by the University of Ljubljana in 1960 as the Institute of Biology at the Faculty of Biotechnology.
It was then renamed the National Institute of Biology after 1994 when the Slovenian government assumed the role of its sole founder.