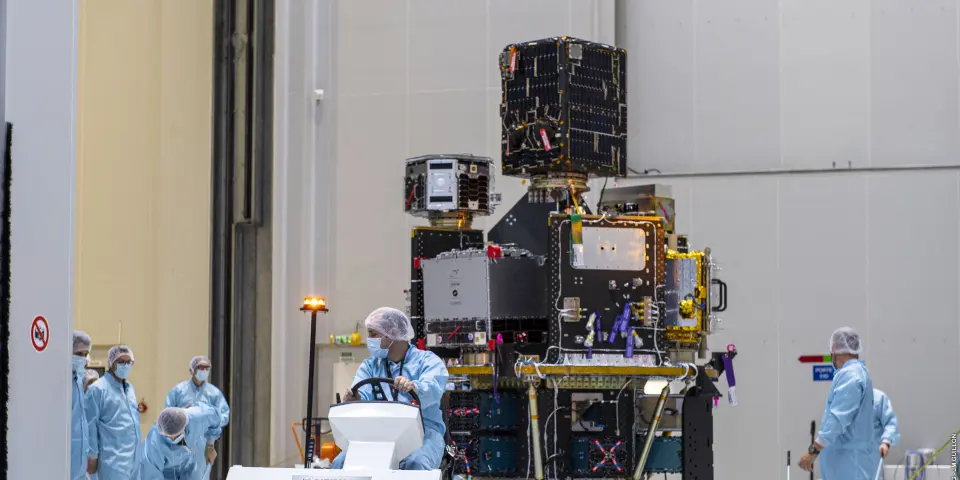 First Slovenian satellites successfully deployed in space
Kourou, 3 September - Following a number of cancellations due to poor weather, the launch of Slovenia's first satellites, Trisat and Nemo HD, as part of a project by the European space company Arianespace, was successfully executed this morning.

Arianespace's Vega rocket, which carried a record 53 satellites from 13 countries, was successfully launched from French Guiana at 3:51am CET.
Both Slovenian satellites have already been placed in the orbit, with Nemo HD circulating at 515 kilometres and Trisat at 530 kilometres above Earth.
Their first contacts with stations in Ljubljana and Maribor are expected to be established at 10:43am and 10:50am, respectively.
Both Slovenian satellites are an important milestone for the country's as well as European space technology efforts.
Trisat, weighing only 4.4 kilos, is capable of taking multispectral images of Earth in short-wave infrared spectrum with a camera unlike any other in space at the moment.
Nemo HD is a 65-kilo micro-satellite which will be orbiting Earth at 600 kilometres, producing panchromatic and multispectral images.