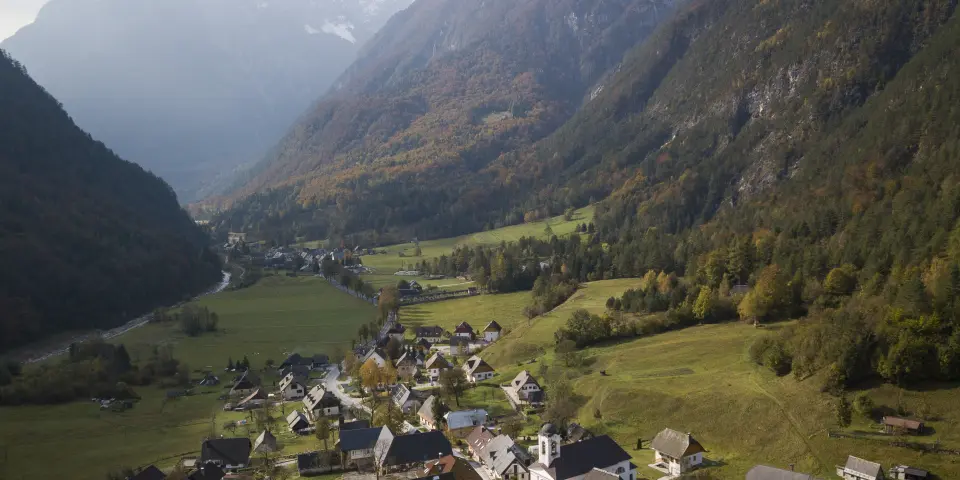 Devastating landslide in Log pod Mangartom milestone for research of this field in Slovenia
Ljubljana, 29 November - The village of Log pod Mangartom was hit by a devastating landslide 20 years ago, which came rolling from a hill 4km away after heavy rain. Due to its massiveness, multiple phases and the type of movement this catastrophic event is an extremely interesting natural phenomenon from a geological point of view, which boosted research in this field.

The devastating landslide was triggered on 17 November 2000 in the Stože area near Mt Mangartska Planina and reached Log pod Mangartom, a village four kilometres away, in a matter of minutes.
According to geologist Jernej Jež from the Geological Survey of Slovenia, the landslide was triggered because of unfavourable geological structure in this area, while the main cause was heavy rainfall in October and November that year, which made the whole hillside unstable.
The phenomenon was interesting from the geological point of view, not least because it had multiple phases - the first landslide was triggered on 15 November but did not reach the village - because of the quantity of material, the way in which it moved and its speed.
A debris flow, which was the form in which the material quickly moved downslope, is a relatively rare phenomenon that is hard to predict but when it happens it is massive, rapid and consequently destructive, Jež said.
It is created when slope material becomes saturated with water to the extent that it starts flowing like a liquid. Such debris flow contains both water and slope material as well as large rock blocks, tree trunks and roots.
In November 2000, around 1.5 million cubic metres of material turned into a debris flow and came thumbing down the bed of the Mangartski Potok and Predelica streams at the speed of some 30 kilometres per hour to completely destroy six houses, two bridges, cover up a hydro power plant, destroy and damage infrastructure and claim seven lives.
Immediately after the event, a part of the village population was evacuated and later several measures were taken to repair the damage, said the dean of the Ljubljana Faculty of Civil and Geodetic Engineering (FGG), Matjaž Mikoš, who participated in efforts to repair the damage in 2000.
As part of damage repair efforts, two new bridges were built over the Predelica and Mangartski Potok streams, the riverbeds of torrents were repaired and the lower part of the Stože hillside was drained. A crusher of debris flow was built and a temporary alarm system set up.
Researchers are still monitoring the area to provide for long-term safety. It is estimated that 1.7 million cubic metres of material above the area where the landslide started is still moving. "This area is much further away from Mangartski Potok than in 2000 but we must still not ignore the danger, so we must keep an eye on the area and keep track of the movement," Jež said.
Landslide as milestone for Slovenian landslides research
Although smaller landslides had previously occurred in the area over Mt Mangartska Planina, the devastating landslide was a surprise, as nobody had expected it could turn into such a destructive debris flow, Jež said. Experts in this field were also surprised by this and it was a milestone.
After the disaster, more in-depth research into debris flow started and various experts, from geologists, construction engineers, water experts and foresters started cooperating, which is very important for studies into such processes, Jež said.
Mikoš too deems the landslide a "turning point for development of this field in Slovenia".
Research into landslides that threaten Koroška Bela
Because of its diverse relief, geological structure and climate features, a third of Slovenia is in danger of landslides. The most landslides occur in hilly parts of eastern and south-eastern Slovenia, but these are relatively small and shallow, so they do not cause so much damage, while those in the alpine region are much bigger, more dangerous and hard to control. One of the most critical areas is the town of Koroška Bela at the foot of the Karavanke mountain range.
Several landslides lie above the town, including five large ones, and they are actively moving. The largest among them is the Urbas landslide, followed by Čikla, which is smaller but could potentially have more destructive consequences. It is about 26,000 square metres in size, and with extreme events such as intensive or long-term precipitation, it can turn into a debris flow and much like the landslide in Log pod Mangartom put the town beneath in danger, said Tina Peternel from the Geological Survey of Slovenia.
In the Koroška Bela area, debris flows had occurred in the past. In 1789 such a slurry of material hit the town, destroying 40 houses. That is one of the reasons researchers have been keeping an eye on the area inhabited by some 2,000 people since 2008.
Various projects are under way in this field focussing on mapping the landslides, monitoring them and measuring their movements, quantity of rain, and levels of underground waters using a real-time monitoring system, and taking underground measurements of the movements.
In more than 20 locations, geomechanical holes have been drilled to obtain samples of landslides and thus information on the materials and the depth of the sliding piece of land.
In 2019, the Ministry for Environment and Spatial Planning co-funded the continuation of even more in-depth research into the feasibility of measures that would decrease the possibility of a debris flow forming or them endangering the people of Koroška Bela and local infrastructure.
The results of the studies will soon be presented to the ministry and then also to Koroša Bela citizens and other key stakeholders.
Peternel deems research in the Koroška Bela region an example of best practice, because both the state, Jesenice municipality and research institutions such as the Geological Survey, the FGG and civil protection are involved in the research and drawing up of preventive measures.
More efforts needed in prevention
The landslide in Log pod Mangartom has undoubtedly boosted science and research of this area and at the same time raised awareness of the importance of prevention. The Geological Survey has for example developed an early-warning system for landslides (MASPREM) for the Civil Protection and Disaster Relief, which is warning the relevant services of increased danger of landslides after heavy rain.
However, these efforts have still not reached a satisfying level, as preventive measures take time and money, Jež said.
Mikoš agrees that important steps have been made in this area in the last two decades, that cooperation has been enhanced, and that the Slovenian science is now connected to Europe and the world, but he thinks more could nevertheless be achieved.
But to achieve that more funding should be available for research as well as prevention in the area of protection against landslides in Slovenia.
"I think we need to further deepen international cooperation, and foremost meet the demands from the 2002 water act. The Geological Survey of Slovenia is taking excellent steps in this field in cooperation with other experts," Mikoš stressed, adding that the know-how stemming from the 2000 landslide should be used to the benefit of municipalities and in education.
Peternel believes preventive efforts should be strengthened while bearing in mind the responsibility to the environment. "We need to strengthen cooperation between relevant services and research institutions and definitely the people as well.
"But as individuals we must also be aware of our responsibility towards nature and the environment and be extremely careful when planning buildings so as not to cause damage to the environment and trigger landslides," Peternel said.