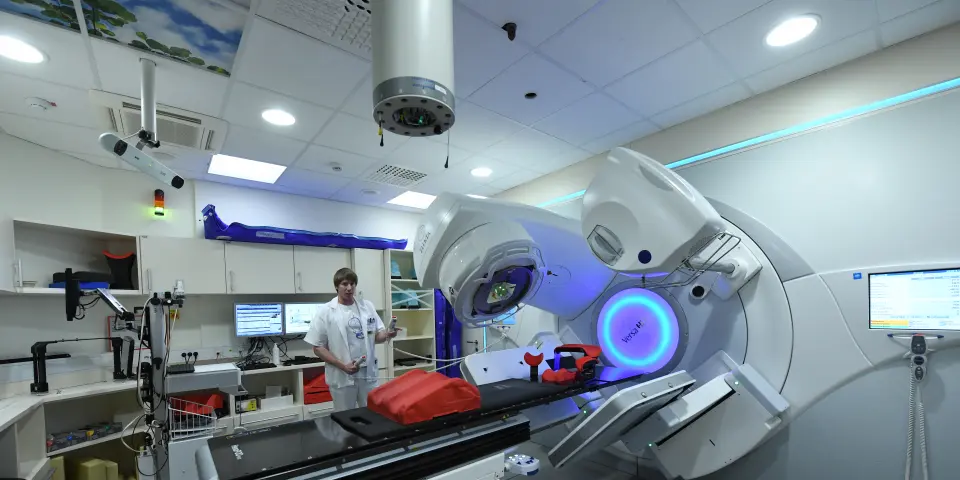 Efforts to set up Slovenian research centre for cancer diagnosis and treatment
Ljubljana, 20 November - Slovenian experts from different scientific disciplines are aspiring to create a Research Centre for Advanced Diagnostics and Treatment of Cancer (RC Advance). The idea has been floated as part of reflections related to initiative for creation of the Slovenian Proton Therapy Centre and will be discussed next week at a dedicated online event.
Professor Primož Strojan of the Ljubljana Institute of Oncology believes the creation of the platform, called RC Advance, would be extremely valuable. This would be a platform where stakeholders such as clinical and basic researchers and technological companies could combine their expertise on solving cancer related diagnostics and cancer treatment challenges.
RC Advance would be an independent unit with the idea being that most cancer patients would be included in clinical research. This research would involve advanced diagnostic and treatment procedures such as proton therapy, immunotherapy and targeted therapies. "Creating a platform to exchange different ideas from various partners (...) would certainly be more than welcome. Slovenia has a lot to offer in this field, even at a global level," Strojan has told the STA in an interview.
Professor Robert Jeraj at the University of Ljubljana sees connectivity as a key asset of such a platform, especially because Slovenian science is rather poorly interconnected despite being small in size. "Bringing the research sphere together around one problem in a single space and time certainly brings synergies that wouldn't be possible otherwise. It's the main goal of such a research centre."
With modern methods of cancer diagnosis and treatment, medical science is increasingly being joined by other sciences such as physics, experimental and diagnostic oncology, particle physics, information technologies. Particularly medical physics plays a crucial role in tumour imaging and treatment.
"At the time of the diagnosis, the main question is whether someone has cancer or not. When the presence of cancer is confirmed, the next step is to precisely localise the tumour and prepare an accurate treatment plan so as to avoid causing damage to surrounding tissue during radiotherapy," he illustrated.
We are seeing a transition from basic qualitative image assessment - identifying whether there is a tumour or not - to quantitative image measurement "In recent years there has been a major shift from qualitative to quantitative medical imaging, which can then be applied for such purposes. It also involves very complex diagnostic and treatment systems and we need to understand how they function."
However, this is only one area of medical physics, a field that is well developed in Slovenia and is one of the key partners when it comes to the development and application of modern diagnostic and therapeutic technologies.
The experts behind the idea note that Slovenia already has several centres of expertise that can significantly contribute to the creation of RC Advance, including the country's two university medical centres and the Ljubljana Institute of Oncology, which is a regionally well-established cancer diagnostics and treatment centre. In addition, many researchers are already working on related scientific challenges at other educational and research institutions such as the Jožef Stefan Institute and Strategic Research & Innovation Partnership (SRIP) Zdravje - Medicina.
Hence the effort to establish RC Advance closely links with the efforts to set up the Slovenian Proton Therapy Centre. Proton therapy is a major addition to conventional radiotherapy, its advantage being a more detailed delivery of the required dosage of radiation as a result of which the surrounding tissue gets substantially less radiation and is less affected.
Strojan is a strong advocate for such a proton therapy centre which he believes would allow Slovenian oncologists to expand their knowledge and expertise and enhance the Institute of Oncology as the leading radiotherapy centre in the region.
The virtual event on Tuesday, which is organised by the Slovenian innovation Centre and SRIP Zdravje Medicina , will be addressed by professor Rock Mackie of the University of Wisconsin, Thomas Bortfeld of Massachusetts General Hospital in Boston and leading Slovenian experts offering a range of expertise on development on proton therapy in Slovenia.