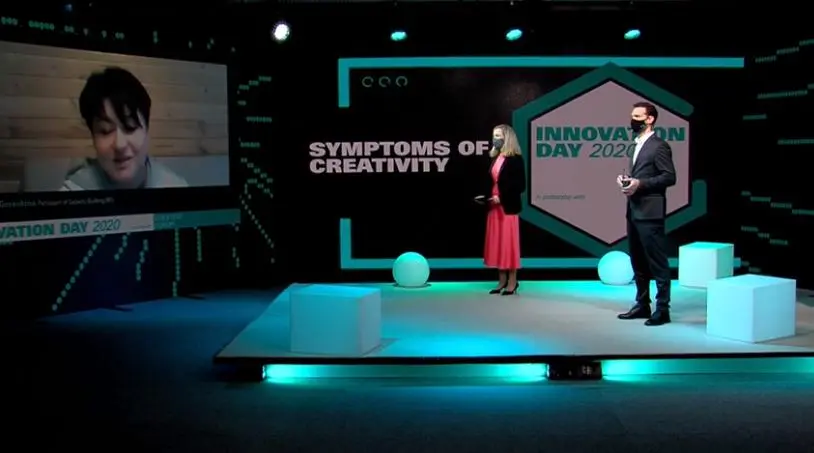 Eleven innovations receive Golden Awards from GZS
Ljubljana, 30 November - Eleven innovations received top awards from the Chamber of Commerce and Industry (GZS) as part of Innovation Day on Monday. The online ceremony was also addressed by President Borut Pahor, who labelled the economy and the creative sector two pillars of social development, with the key to progress lying in their cooperation.

"Along with extraordinary non-material value, the creative and culture sector generates almost 5.5% of the gross added value in the EU. Especially in micro and small companies, which is also a feature of our country," Pahor told the event, held for the 18th time.
The potential for cooperation between the economy and the creative and culture sector however remains unused to a great extent, he added.
Concluding on a positive note, Pahor said the innovations honoured today were proof that Slovenia was capable of transforming its knowledge, ideas and creativity into globally competitive innovations.
A total if 11 innovations received Golden Awards in individual segments, starting with the company BIA Separations and its procedure for the purification process of the gene drug Zolgensma for treating infants with fatal spinal muscular atrophy (SMA) type 2.
The firms Domel and Podkrižnik were honoured for developing a highly efficient e-bike motor, Incom for its rose-shaped Leone Rose cone ice-cream, Krka for its triple combination for the treatment of hypertension, and Lek for the development of a new generic medicine with tacrolimus in the form of prolonged-release capsules, intended for the treatment of organ transplant patients.
The list moreover includes Modularis with its TEH multifunctional modular hydraulic grapple with syncro and asyncro arm movement, Pharsol with its CryoHolder that enables quick, more efficient, and safe transfer of frozen cryovials, and Roto with its ROTO 450s boat, roto-moulded in one single piece and made with 3-layer technology.
Also honoured with the top award were Tik for its hydrophilic-coated urinary catheter, TPV Automotive for the universal robot bin picking cell capable of recognizing and picking 3D objects of complex shapes in a packaging unit, and Weiler Abrasives for its comprehensive range of X-LOCK cutting and grinding wheels.
While several more awards were handed out, as many as 43 Slovenian innovations were competing for the top honours these year. The GZS also bestowed the "audience" award, whose winner was Kronoterm and Adapt heat pump.
GZS president Boštjan Gorjup stressed that almost a third of the innovations this year came from micro and small companies, and five among these from young innovative start-ups.