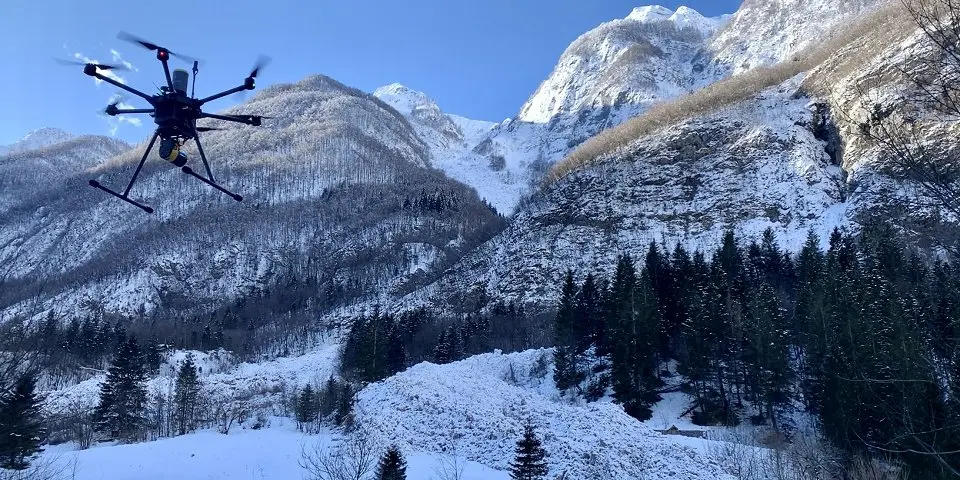 Laser scanner used for first time to examine avalanches
Bovec, 1 February - The aftermath of the avalanches that had hit the area of Bovec in north-western Slovenia on 22 and 23 January, shutting off local roads, was investigated with a laser scanner installed on a drone. This was the first time the device was used to determine the thickness and overall volume of snow in a snowslide in Slovenia.
The effort is part of a wider research of avalanches in the upper Soča Valley, which shows that these occurrences are frequent in that part of Slovenia. The first avalanche map was made by local foresters in 1952.
Speaking about the latest avalanches in January and their examination with a laser scanner, Milan Kobal of the Ljubljana Biotechnical Faculty said on Monday what was interesting was that their field of reach went beyond the local roads.
There were seven separate avalanches that cut off the roads from Bovec towards Log pod Mangartom and Trenta, and from Soča towards the village of Vrsnik.
Kobal told the STA that researchers from the faculty had started using in 2020 a laser scanner installed on a drone to examine erosion processes, including torrential floods, avalanches and landslides, as well as rockfall.
In Bovec, it was used for the first time to determine the thickness and overall volume of snow after an avalanche, he said, noting that the laser scanner enabled what standard photogrammetry could not.
"It is precisely the height of the cover under three tops that is important in simulations of individual avalanches, in predicting their reach and volume, and in planning adequate technical measures," Kobal added.
The researchers will use the data acquired to create maps of potential snowslide and rockfall hazards, he said, adding that the information obtained so far suggested that it would be sensible to build avalanche galleries in certain sections.