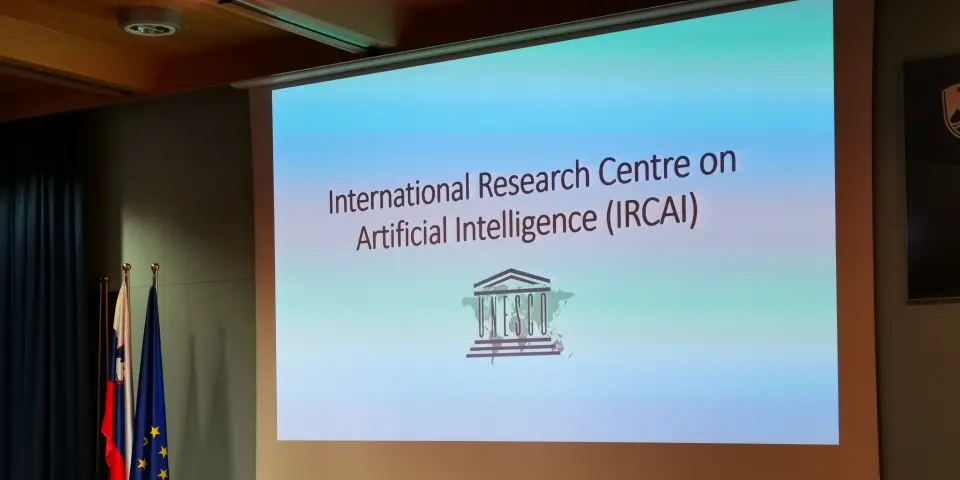 UNESCO AI centre formally launched in Ljubljana
Ljubljana, 29 March - The UNESCO-sponsored International Research Centre On Artificial Intelligence (IRCAI), which was established in Ljubljana in October 2020, was formally launched on Monday at a virtual event. The opening ceremony presented the centre's work so far as well as opportunities for cooperation and use of AI tools.
The event aims to present the centre's vision to create global partnerships through presentations of projects that are already under way.
Through Tuesday, the centre will host experts and researchers from more than 50 countries, including Slovenia, high representatives of the European Commission and representatives of embassies in Slovenia and international organisations, reads a press release.
The centre has set up programme committees dedicated to sustainable development targets, including in education, support technologies, waste management, climate change, the circular economy and assessment of UN indicators.
To meet the main targets, the IRCAI has come up with programmes that seek to promote high-quality scientific publications and projects, establish innovative financial mechanisms, strengthen capacities by holding events and introduce a verification programme to establish a clearing house as an intermediary between interested parties.
Moreover, the centre has prepared an open call for the best 100 projects that focus on topics related to UN sustainable development goals with the help of AI.
Today's event was addressed by the head of the Jožef Stefan Institute (IJS) Boštjan Zalar, President Borut Pahor, UNESCO Director-General Audrey Azoulay, Minister of Education, Science and Sport Simona Kustec, Public Administration Minister Boštjan Koritnik and IRCAI director John Shawe-Taylor.
The choice to set up the centre in Slovenia is among other things a result of the country's contribution to AI development, said Shawe-Taylor, noting that the IRCAI strived for cooperation between researchers and AI users.
Azoulay described the centre as an important new UNESCO member, the first UNESCO-sponsored centre to be dedicated to AI. "The role of IRCAI became clear in the past six months including in preparations for the UNESCO report on the ethics of artificial intelligence," she added.
Pahor meanwhile said that AI was a tool to improve life as well as a threat to privacy and data protection. He welcomed efforts by UNESCO and other international organisations to come up with legal and ethical standards for AI use as soon as possible.
The UNESCO conference general unanimously endorsed Slovenia's bid for the centre in November 2019. The formal inception took place in October 2020.
The global centre is headquartered at the IJS and is designed to boost cooperation between stakeholders to advance AI development and implementation.