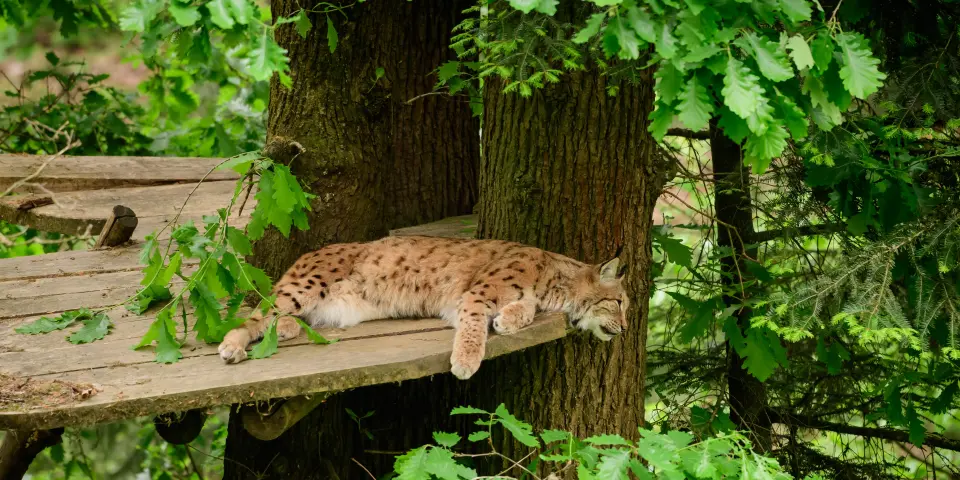 Two more Romanian lynxes arrive in Slovenia
Bohinj, 19 April - Two more Romanian lynxes arrived in Slovenia the past weekend as part of the international Life Lynx project after one arrived in March. The male Zois and female Aida will first spend some time in the adjustment enclosure in Jelovica in the north before being released into the wild.
Five lynxes are to arrive in the Gorenjska and Primorska regions by the end of the year.
The transport of the two wild cats was carried out smoothly, as an experienced team from the Ljubljana Zoo and the Forest Service was in charge of the project, says on the website of the project.
As the two lynxes will be adapting to the new environment in the enclosure, local hunters will look after them. Since lynxes are very timid animals, it is important that they are not disturbed, so the location of the enclosure has not been made public and people are urged not to approach it.
Hunters also picked the name for the male, naming him after one of the most influential figures of the Enlightenment Era in the Slovenian lands, Žiga Zois (1747-1819).
The resettlement of Zois and Aida marks the end of the third successful season for the Romanian ACDB team catching the animals. So far the team has caught eight lynxes as part of the Life Lynx project that will help save the lynx population of the Dinaric Alps and SE Alps from extinction.
According to the partners to the project, this year has been exceptional in terms of catching lynxes for resettlement. Slovakian and Romanian partners activated box traps in January and caught six lynxes for resettlement by the end of the March.
Two males and a female were caught in Romania, and a male and two females in Slovakia.
The first lynx, which was caught in Romania at the end of January, was moved to the adjustment enclosure in Pokljuka in March.
Primary school students from the Community of Schools of the Julian Alps Biosphere Reserve named him Tris, which is a compound of Mt Triglav and the Slovenian world for lynx.
He is to wait for two more females in the enclosure before they are all released into the wild.
The two female lynxes that were caught in Slovakia in March are also to be moved to the Gorenjska region, while the male caught in Slovakia will go to Croatia.
There have been no reports of reproduction of lynxes in the Gorenjska region since early 20th century, so the Life Lynx project aims to create a connective population of the wild cats at the intersection of the Dinaric Alps and SE Alps, which is to improve the natural gene flow and increase the chances for mating with neighbouring lynx populations in the Alps.