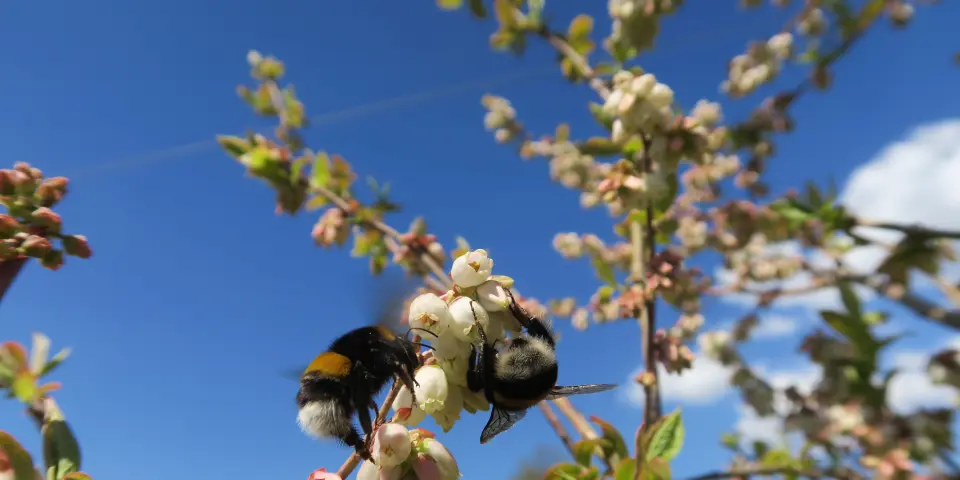 Drastic decline in number of bumblebees in Slovenia
Ljubljana, 4 October - The first monitoring of wild bees in 2021 did not yield encouraging results, with the bumblebees count dropping five-fold compared to last year. "This is bad news for both agriculture and nature, as bumblebees are among the most important pollinators," the National Institute of Biology (NIB) said on Monday.
The most likely explanation for the decline was the exceptionally bad spring weather, said NIB, pointing out that research on pollinators in orchards showed that bumblebee numbers in spring, when fruit trees were flowering, were similar to previous years.
This means that the queen bumblebees overwintered successfully, but probably due to bad weather, frost and prolonged rain, they did not get enough food to nest successfully.
An additional problem in the decline of bumblebees is that their role as pollinators is particularly important in bad weather, as they are "known to pollinate even in the rain, cold and wind".
NIB said that bees have also faced similar problems, but they could survive adverse conditions more easily, thanks to the help of beekeepers.
"While fluctuations in animal populations, including bumblebees, are normal in nature, such a large decline in one year is worrying".
"Climate change, or weather extremes such as early springs followed by frosts and prolonged summer droughts, are destroying pollinators' food resources," the researchers warned.
In addition to the Carniolan honey bee, Slovenia is also home to over 500 species of wild bees, while other wild pollinators include flies, butterflies, some beetles and wasps.
According to NIB, the role of wild pollinators is very important in nature, while they also contribute significantly to pollination in agriculture, the value of which is estimated at EUR 120 million a year.
The monitoring of wild bees is a three-year pilot project that started last year and is being carried out at a total of 50 sampling sites across Slovenia.
The project is led by NIB, organised in cooperation with Slovenia's Natural History Museum and the Slovenian Academy of Sciences and Arts. The funding is provided by the Slovenian Research Agency, the Environment Ministry and the Ministry of Agriculture.