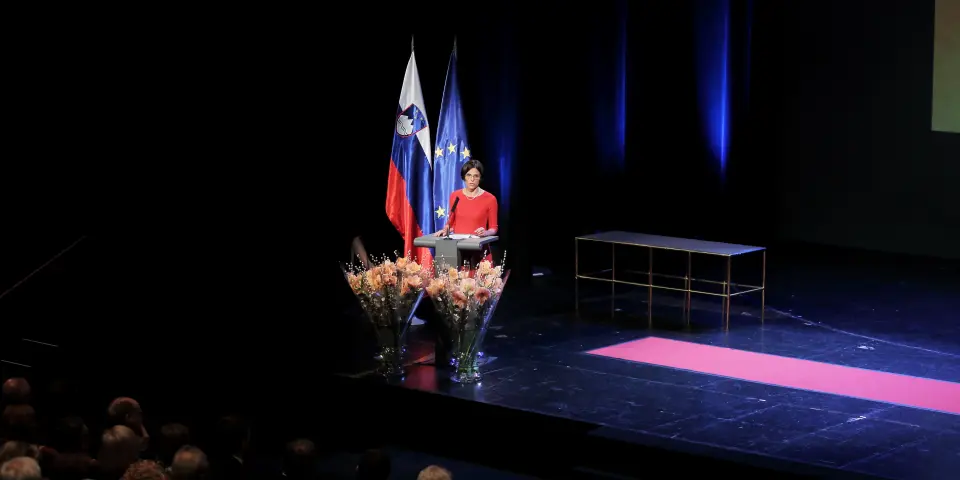 Top science awards go to women researchers
Ljubljana, 11 December - Statistician Anuška Ferligoj and nanotechnology researcher Julijana Kristl were honoured for their contributions as the Zois Prizes for lifetime achievement in science and research were handed out at Cankarjev Dom on Friday. Internet pioneer Borka Jerman Blažič meanwhile received the Puh Prize for lifetime achievement.
Ferligoj, a researcher and lecturer at the Faculty of Social Science in Ljubljana, was honoured for her work in statistics. She is considered a pioneer in statistics in social sciences in Slovenia, whose work has promoted Slovenian science abroad.
A leading Slovenian researcher and scientist in pharmaceutical nanotechnology, Kristl works for the Faculty of Pharmacy in Ljubljana. Her research into advanced nano supply systems has helped opened possibilities of treatment of medical conditions.
The Puh Prize went to Jerman Blažič as a pioneer of the most important invention of the 20th century - the internet, the jury said.
As one of the finest experts in telecommunications, she played a key role in the development and use of the internet in a number of areas in Slovenia and abroad.
Another dozen Zois and Puch awards were given out, including a recognition called Ambassador of Science of the Republic of Slovenia, which went to physicist Saša Bajt.
The award ceremony was addressed by President Borut Pahor, who stressed the topicality and importance of scientific achievements, as the Covid-19 pandemic showed that "we are all dependent on science".
"The pandemic has shown that we are all in the same boat, that we need to help each other, that we are dependent on each other, and we are all dependent on science. Global and domestic science have done a great job during this time," he said.
The Zois Prizes, the highest government accolades for science, are named after Baron Žiga Zois (1747-1819) and have been presented annually since 1998.
The Puh Prizes were first given out in 2018, to honour researchers whose work has contributed to Slovenia's economic or social development. They are named after inventor Janez Puh (1862-1914).