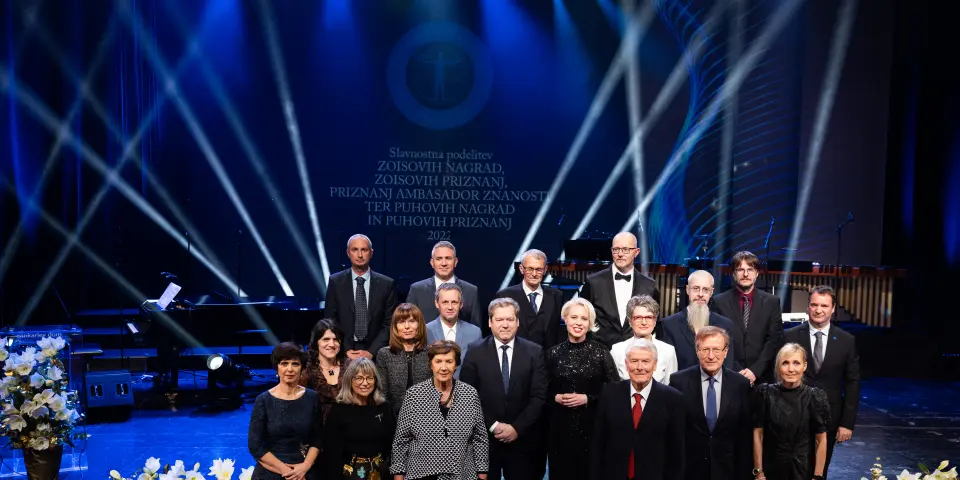 Law theorist, gene engineering expert win top science awards
Ljubljana, 20 December - Professor Marijan Pavčnik, an expert in the theory and philosophy of law, and Radovan Komel, a pioneer of medical molecular biology, genetics and gene engineering, are the recipients of this year's Zois Prizes, the top national accolades for achievements in science.

Pavčnik was honoured for his contribution to the development of the theory of law and the understanding of law in Slovenia. In a career spanning five decades he has founded a major book collection called Pravna Obzorja (Horizons of Law) and as a co-author edited several books on important law issues, the jury said.
His books The Theory of Law and Argumentation in Law have set the foundations for understanding law and his scientific findings have been recognised internationally. Recently, he has been contributing to the development of the constitutional law as a Constitutional Court judge.
Komel, who received the Zois Prize for lifetime achievement in the life sciences, is the author of an outstanding book on the diagnosis and discovery of the molecular basis of genetic diseases such as cystic fibrosis, haemophilia A, lymphomas and a range of others.
Komel has also been committed to bringing together researchers in the biochemical and medical spheres, so he initiated the Slovenian Biochip Consortium and later the Centre for Functional Genomics and Biochips.
The Puh Prize for lifetime achievement in technological invention went to Uroš Stanič for his pioneering contribution to the development of functional electric stimulator, Slovenian industrial robots and robotisation.
After many years of research work he has developed the Ljubljana family of electrical stimulators as a basis for the rehabilitation of hemiplegic patients - the Ljubljana School of Rehabilitation.
It is a way of treatment where electrical stimulation of a paralysed muscle creates a functional movement, such as opening a spastic arm and allowing grasping of objects, or lifting a falling foot while walking and preventing a limp.
He has expanded this effective rehabilitation method from Ljubljana all over the world. Due to the successes in rehabilitating the movement of lame patients, household appliance maker Gorenje ordered the first Slovenian industrial robot, GORO1.
The accolades were conferred on Monday along with a dozen second-tier Zois and Puch awards, including a recognition called Ambassador of Science of the Republic of Slovenia, which went to Nataša Obermajer for her research and development of innovative cancer treatments.
The Zois Prizes, the highest national awards for science, are named after Baron Žiga Zois (1747-1819) and have been presented annually since 1998.
The Puh Prizes, first given out in 2018, honour researchers whose work has contributed to Slovenia's economic or social development. They are named after the inventor Janez Puh (1862-1914).