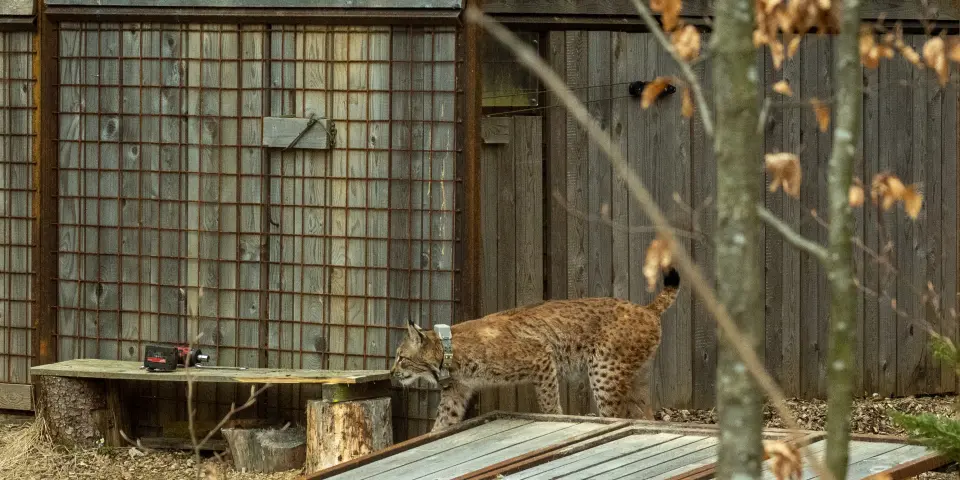 Lukaš the lynx to roam forests of Gorenjska and hopefully procreate
Bohinj, 19 April - Slovenian forests have welcomed another male lynx from Slovakia under Life Lynx, a project that aims to restore the lynx population in the Dinaric Alps and south-eastern Alps. Lukaš was released into the forests in the Gorenjska region and is joining three female lynxes as the project partners are hoping for lynx kittens in the future.
Overall, 17 lynxes have been reintroduced to Slovenian forests under the project, but relocating some to Gorenjska has been challenging as the wildcat did not reproduce in the region before.
Nevertheless, all the lynxes relocated to Gorenjska have successfully settled there and the three females have all had at least one litter.
Because the male lynx Zois has not been seen in Gorenjska, Lukaš has been brought in to improve the gene pool. The three females and one other male are being tracked with automatic cameras and GPS collars as are some of their offspring.
Project coordinator Rok Černe of the Slovenian Forest Service, the main partner of the project, said that connecting lynx populations in the Dinaric-Alpine region is of key strategic importance if the lynx in Slovenia was to be protected and preserved in the long run.
Miha Mareč of the service's forest development planning sector added that the monitoring of efforts to salvage the lynx are important in the long run, so they hope that the state will keep funding their work after the Life Lynx project concludes.
As the newly-settled lynx had been in care of the Nomenj-Gorjuše hunting association up until its release, president of the Slovenian Hunters' Association Lado Bradač said this shows that hunters are not just about hunting animals but also protecting them.
In light of this, the Hunters' Association and the Forest Service have signed a cooperation agreement with the Styrian Hunters' Association on protecting and preserving the lynx population.
The stories of the reintroduced lynxes have inspired writer and project ambassador Desa Muck to write a book titled Pogumni Maks (The Brave Max), which tells the story of a male lynx as he tries to find a territory of his own and mate, travelling long-distance from the Notranjska region to the Alps and back.
So far 17 lynxes have been released into the wild under the project, co-funded largely by the EU, six in Croatia and eleven in Slovenia, of which five in the Alps and six in the Dinarides.