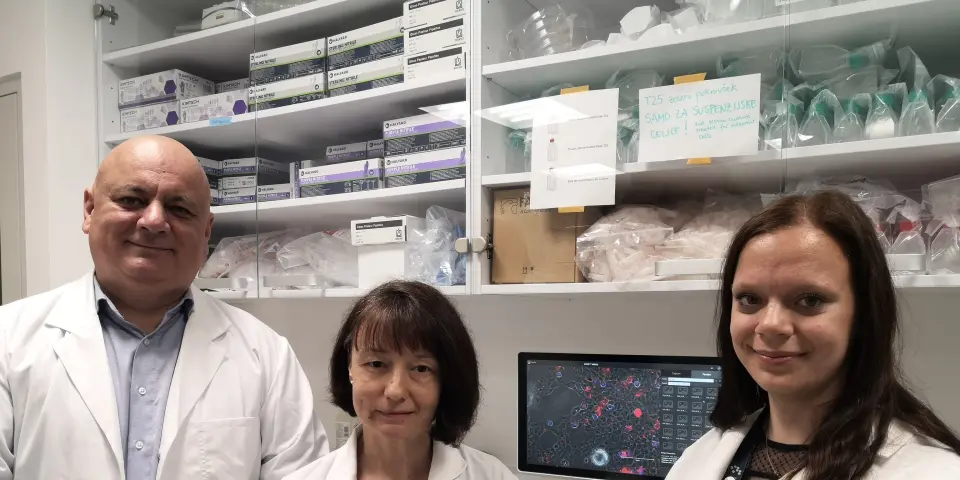 Researchers make breakthrough in treating frontotemporal dementia
Ljubljana, 12 May - A Slovenian-German-Dutch team of scientists has identified a modification of the FUS protein, which plays a role in the early onset frontotemporal dementia. The finding provides an important insight into the causes of the disease and the development of new strategies to treat it, the Jožef Stefan Institute said.
Although rarer than Alzheimer's disease, frontotemporal dementia is one of the most common types of dementia in the 45-65 age group, said co-author of the study and project head Boris Rogelj of the Department of Biotechnology at IJS.
It mostly affects the frontal and temporal lobes of the brain. Unlike Alzheimer's disease, where one of the main early symptoms is memory loss, it causes behavioural and personality changes or problems with understanding and pronouncing words.
From the molecular pathology point of view, patients with neurodegenerative diseases, including frontotemporal dementia, suffer from an abnormal build-up of certain proteins in nerve cells in the wrong places. This occurs due to overproduction of these proteins or their insufficient degradation and removal from the cells.
One such protein is FUS, which is linked to some 10% of all frontotemporal dementia cases, Rogelj said. The overaccumulation of FUS can also happen if the protein mutates or is modified, for example due to phosphorylation, in which the manner of how a phosphate attaches to certain amino acids affects protein function.
The Jožef Stefan Institute lab has previously already shown that the phosphorylation of the last tyrosine amino acid in the FUS protein prevents the protein from being properly distributed into the nuclei of nerve cells. The phosphorylation speeds up its improper accumulation, as well as the formation of toxic FUS aggregates and neuronal cell death in frontotemporal dementia.
Until now, such modifications and mechanisms in the non-mutated FUS protein have been poorly researched. The research team has now managed to develop a special detector, an antibody that detects the modification on the FUS protein.
By using advanced microscopy, they have discovered the FUS protein distribution pattern, which was previously undetectable with commercially available detectors, thus proving that frontotemporal dementia is linked to the phosphorylation of the FUS protein.
The antibody they have developed could be used in diagnostics and in researching the mechanisms of frontotemporal dementia and other neurodegenerative diseases, as well as other medical conditions, such as cancer, Rogelj said.
The study, published in the neurology journal Brain, was funded by the Slovenian Research Agency (ARRS).