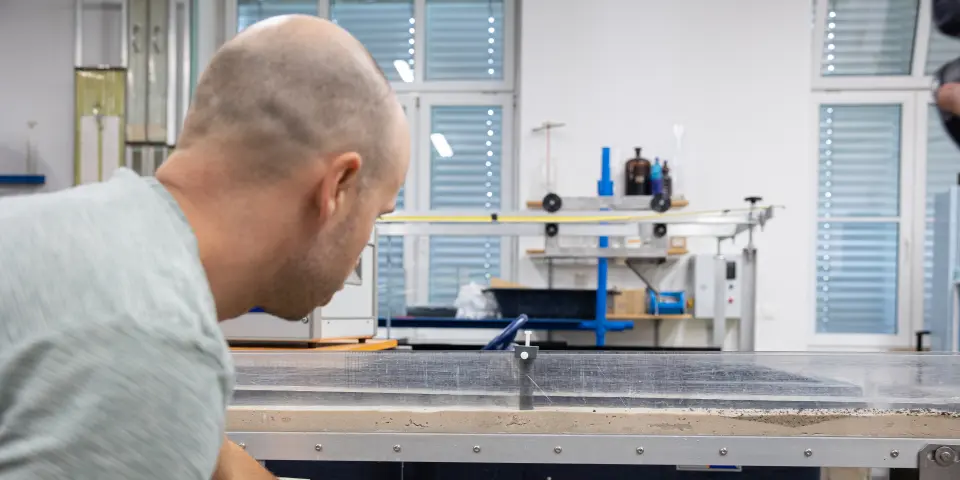 Water science and environmental engineering must adapt to extreme weather
Ljubljana, 23 September - The extensive floods that hit Slovenia in August have posed a major challenge for water experts, who now have to come up with more effective flood protection measures. Although hydraulic engineers deem existing measures as good, they say they are insufficient when it comes to extreme whether events.
It has become relatively easy to predict extreme weather events, so the flooding that hit the majority of Slovenia on 4 August was not completely unexpected, experts say. The Environment Agency (ARSO) had warned of the danger, but nevertheless the extent to which the disaster devastated the country was unprecedented.
Jošt Sodnik, director of Tempos, a water management company that specializes in watercourse management, torrent control, slope stability, landslides, floods and erosion, estimates the affected areas will not be fully reconstructed by the end of autumn. Priority measures will be carried out and riverbeds and torrents will be cleaned out, with the most affected areas as the first to receive help.
"We have to be aware that periods of intense rainfall are still to come in autumn and winter. Critical locations will therefore need to be identified where works will be carried out on an ongoing basis during heavy rainfall."
"Due to infrastructure sustaining flood damage, autumn will not be easy, an not only this year but for years to come," he pointed out.
Such extreme weather will become more frequent, mainly because of global warming, says hydraulic engineering expert and lecturer at the Faculty of Civil and Geodetic Engineering in Ljubljana Nejc Bezak.
Every one-percent deviation in temperature means the share of water vapour in the air rises by 7% and rainfall can increase by 15%. It is therefore necessary to prepare well for the future, he said.
Flood prevention measures in Slovenia mostly good but inadequate in case of extreme floods
Bezak says flood protection infrastructure in Slovenia is relatively good but finds adequate upkeep to be the problem in certain cases. Most such measures are also designed for a 100-year return period. This means that the probability that a 100-year return period flow will occur at least once in 10 consecutive years is about 10%, the probability for it to occur at least once in 50 consecutive years is 40%, and at least once in 70 consecutive years is 51%.
"The recent floods really were extreme. Some of the analyses we conducted for certain weather stations and watercourses showed that the return period was over 1,000 years, meaning that such an event occurs on average ten times per 10,000 years. It is therefore necessary to introduce uncertainties into hydrological estimates of projected flows, for example due to short data sets, lack of measurements at high flows, and so on" Bezak said.
It should also be taken into account that the 100-year flood return period is shortening because of climate change. Bezak feels that the impact of climate change is generally not given enough attention in hydraulic engineering, especially in the design of facilities.
Relevant institutions should therefore lay down guidelines to determine design flows, which would consider the potential effect of climate change in the design of water management schemes. Because there are no such guidelines at the moment, engineers have to rely on various methods.
No building was designed to withstand such extreme weather
Except for the Krško nuclear power plant, virtually no building in Slovenia was designed to withstand the return period calculated for the recent floods. "Flood prevention measures do not provide sufficient flood safety in such extreme events," Sodnik says.
However, this time Slovenia also paid the price for the neglect of watercourses, especially torrents, over the last 20 or 30 years.
"In particular, not enough attention has been paid to controlling erosion processes in torrents. Cities, in particular in the Upper Savinja Valley, in Koroška and elsewhere, are now practically covered with gravel, most of which came from torrential areas," he pointed out.
Another issue was floating debris, such as timber, together with washed-up materials such as soil and rocks, as it often got lodged in bridge abutments, various openings, and culverts, which caused flooding, scouring and ultimately bridge collapse.
"It was the floating debris that also caused a lot of trouble during the 2007 floods in Železniki, and this time was no different, which shows that forest management in Slovenia still leaves much to be desired," Sodnik said.
Managing watercourses and avoiding construction on floodplains key to improving flood safety
Although no measure can guarantee completes safety, Bezak said, a comprehensive basin-wide flood protection system can significantly reduce the consequences. In the future, the regulation and cleaning of torrents will be necessary, he emphasized. Above all, it will be important to ensure that the washed-up material remains in the hinterland and prevent it from being released into the riverbeds.
At river basin level, retention or detention basins, in combination with levees, have already proven to be a good solution for the most high-risk and populated areas. Green, natural solutions will also be beneficial, especially in urban areas, as they partially retain water and have other positive effects.
Although the outcome this year was catastrophic, there are some examples of best practices, such as the expansion of the Mali Graben creek in Ljubljana, which prevented the flooding of Ljubljana's Dolgi Most borough this year, and flood protection measures in Železniki, which prevented a repeat of the 2007 scenario, Bezak said.
But certain phases of the flood protection system in Železniki have only recently been implemented. More than ten years can pass between an weather event and the completion of flood protection measures, such as the construction of retention basins. Both Bezak and Sodnik highlight that some measures and projects planned for the future will have to be sped up.
Building on floodplains will have to be avoided
The two experts say that building on floodplains will have to be avoided as it has proven problematic.
"Despite having quality flood maps, these areas have always attracted investors, probably because they are slightly cheaper that those further away from the watercourse. I hope the recent extreme flooding was proof enough of why such practices should be abandoned," Bezak said.
He added that a comparison of existing areas where floods are very rare shows that over 50,000 buildings are located there and that flood maps for all watercourses have not yet been made.
Another major problem are landslides. Mateja Jemec Auflič of the Geological Survey of Slovenia said that it is necessary to avoid construction in areas that are more landslide-prone from a geological point of view. "These are primarily hilly and mountainous areas that contain various layers of softer rocks," she explained. When it comes to siting, maps of landslide-prone areas will need to be better utilized.
Slovenia trailing behind other European countries in terms of number of retention and detention basins
Although Slovenia is relatively rich in terms of the quantity of water per capita, it has one of the lowest numbers of retention and detention basins among European countries.
"Water retention is undoubtedly beneficial not only for flood protection but also for water supply during drought periods. We have recently experienced floods, but we must not forget that drought periods are also occurring more frequently," Bezak warned.
Climatologist Mojca Dolinar estimates Slovenia will continue to face both droughts and floods, which will continue to intensify. Due to the increased levels of greenhouse gases in the atmosphere, temperatures are rising, leading to more turbulent processes and therefore more extreme weather events.
It is now already possible to predict the scenarios of extreme weather events, and Dolinar feels it will be necessary to consider and utilize these predictions to better prepare for specific events.
In order to alleviate the consequences of drought in the future, it will be necessary to promote water retention and green infrastructure such as green roofs, urban parks, and urban forests, which lower local temperatures and increase biodiversity, especially in urban areas, Bezak says. Certain additional measures such as using porous concrete, which allows water to seep into the ground, in construction of new buildings.
"In our country there are various interests, especially those of local communities and conservationists. I have nothing against the latter protecting nature, but sometimes we have to ask ourselves what our priority is, whether we want to preserve an uninhibited valley or provide drinking water for the residents," he said. The same applies to flood protection.
Water science in Slovenia facing staff shortages
Bezak says that compared to neighbouring countries Slovenia allocates a very small percentage of its budget to water infrastructure and watercourse management, which translates to "water science in Slovenia facing severe staff shortages." Some projects therefore need to be managed by experts from other fields who do not have basic knowledge of water science.
Enrolment in the water science and environmental management study programme has been very low for the past several years. Analyses and comparisons conducted a few years ago showed that Slovenia invests approximately EUR 400 per kilometre of watercourse, while in Austria this figure is almost EUR 1,500, Bezak says.
He also noted that very few study subjects at the University of Ljubljana teach students about green infrastructure. "In this case, we must offer additional subjects at the university level that will educate future engineers, decision-makers, and planners so that they can better design such infrastructure."
Project to find ways to address climate change
One of the ways in which the faculty is trying to find solutions for addressing climate change is with a project entitled "Evaluation of Hybrid Infrastructure for Reducing Vulnerability to Climate Change."
With the project, Bezak, together with partners from the Czech Republic, the Geological Survey of Slovenia, and the Biotechnical Faculty in Ljubljana, aims to evaluate hybrid infrastructure for flood, erosion, and landslide risk reduction under the influence of climate change.
The project aims to shed light on how different types of infrastructure behave during floods of various magnitudes, comparing green, hybrid, and grey infrastructure, and assess the effectiveness of different measures in reducing vulnerability to natural disasters.