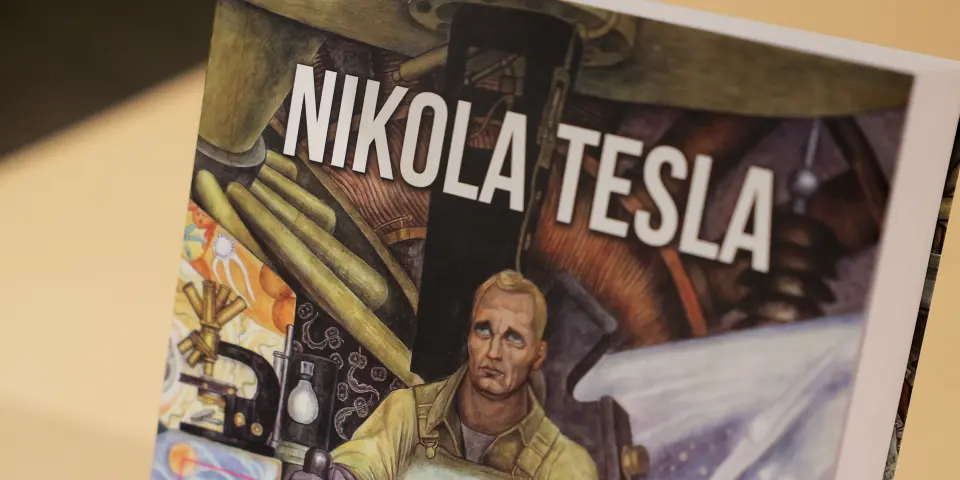 Letters exchanged by Tesla and J. P. Morgan published in Slovenian translation
Ljubljana, 20 September - A book featuring a Slovenian translation of letters inventor Nikola Tesla exchanged with American investment banker J. P. Morgan and his son J. P. Morgan Jr. in the early 20th century to secure funding for his groundbreaking projects was published in Ljubljana. Its English title would read Nikola Tesla: Correspondence with J. P. Morgan & Co.

This is the first time ever that this correspondence, which dates from between 1900 and 1939, has been published while it is also the first translation of the letters to Slovenian.
Published on Monday by Litera, the book Nikola Tesla: Korespondenca z J. P. Morganom & Co. was edited and translated by Tibor Hrs Pandur, who also contributed an extensive study.
It is based on various previously unpublished documents from archives, foremost those kept at the Nikola Tesla Museum in Belgrade, Serbia, and at the Morgan Library & Museum in New York.
The letters are accompanied by short biographies of Tesla's addressees and comprehensive commentaries that contextualize many historical, biographic and technical facts.
The letters document the economic, social and political background of Tesla's attempt to set up a prototype of a transmission station at Wardenclyffe, with which he wanted to give humanity access to wireless power. They also bring an insight into the background of the development of the Tesla turbine.
Both Morgans initially supported Tesla financially, but withdrew further support "for complex psychological, historical and politico-economic reasons", reads the introduction to the book.
Among the reasons was fear that his groundbreaking technologies would undermine the existing ownership/power relations, so "the correspondence provides a unique insight into one of the big tragedies of the 20th century, mirroring ... the brutal rise of neoliberal capitalism", reads the introduction.
Reasons for Morgan's decision to withdraw support for Tesla's project with which the inventor wanted to transform humanity's energo-social order are discussed in Hrs Pandur's accompanying study, which the publisher says brings some new findings related to the construction of the Wardenclyffe Tower.
It also brings an insight into a complex relationship between Tesla and Louis Adamič, a Slovenian-US writer and politician, during the period between the two world wars.
Hrs Pandur, born in 1985, is a Slovenian translator, poet, playwright and dramaturge. In 2019, he translated Tesla's 1900 essay The Problem of Increasing Human Energy.