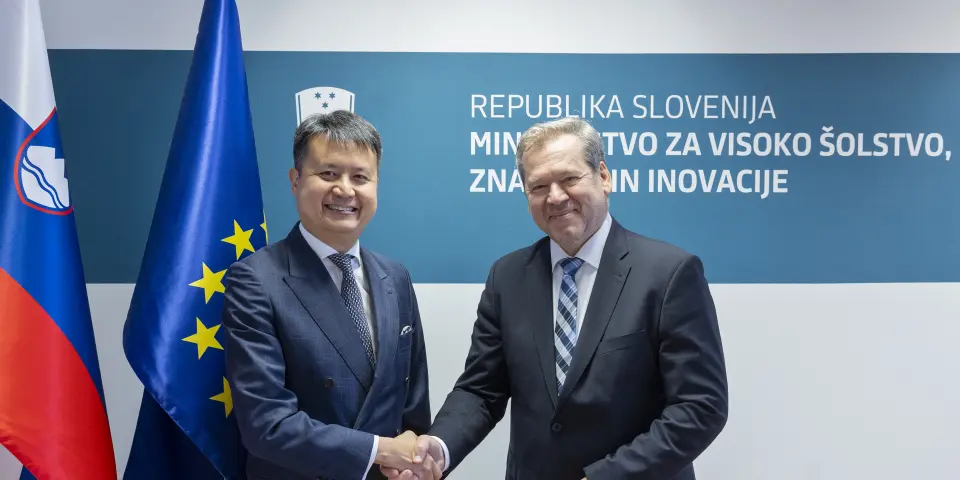 WIPO to help Slovenia with intellectual property protection
Ljubljana, 25 September - Slovenia is currently in the process of preparing the first national strategy for the protection of intellectual property, which is expected to be adopted next year. Visiting Ljubljana, Daren Tang, director general of the UN World Intellectual Property Organization (WIPO), has offered help with the preparations.

Tang, who is in Ljubljana at the invitation of Economy Minister Matjaž Han and Karin Žvokelj, head of Slovenia's Intellectual Property Office, said on Monday that intellectual property could contribute to growth, job creation and efforts to attract investment.
In their statement after the talks, all three of them underlined the importance of the strategy, which will contribute to a better understanding of and respect for intellectual property rights and hence to the improvement of the environment for the development of innovation and a competitive economy.
Han stressed the importance of innovation and intellectual property, saying: "Merely an idea is not enough. It needs to be put into practice, brought to market, secured and marketed. And it is intellectual property rights, such as trademarks, designs, patents, that offer legal protection against other market players."
Intellectual property gives value to innovation, the minister stressed, adding that intellectual property rights were part of the intangible assets of companies, which increased the value of investments and boosted competitiveness.
Tang called for a change in the way intellectual property is regarded. It should not exist for the sake of it, it should be a means to an end, he said. The goal is that those who register patents, trademarks or designs will also take their products to the market.
Intellectual property is not just something that takes place in an industrial context, it is also linked to culture, to life in general, the WIPO director general noted, pointing to examples such as Slovenian basketball star Luka Dončić and his brand or the protected Idrija lace.
"A well-functioning and balanced system of the protection of intellectual property rights can foster innovation and creativity, thereby stepping up economic growth and societal progress," said Žvokelj, who would like to see the national strategy have a positive impact on awareness raising and protection in general.
She expects the strategy to be completed by the end of June next year.
During his three-day visit to Ljubljana, Tang's schedule includes meetings with President Nataša Pirc Musar, National Assembly President Urška Klakočar Zupančič and Minister for Higher Education, Science and Innovation Igor Papič.
Meeting on Monday, Pirc Musar and Tang discussed the importance and potential of intellectual property protection in efforts to meet the sustainable development goals (SDGs), particularly in gender equality and the fight against climate change, the president's office said.
They welcomed the recent signing of a working agreement between the Slovenian Intellectual Property Office and the European Patent Organisation on cooperation in patent application procedures.
In addition to the emerging strategy, they also talked about "initiatives to promote gender equality in the global innovation system, artificial intelligence, and how intellectual property can impact the SDGs", the WIPO said on social network X.
Tang also discussed climate change and related extreme weather events with Klakočar Zupančič. He believes that creativity and innovation, originating in intellectual property, are solutions to climate change, the National Assembly said in a press release.
The pair also touched on other WIPO projects, including efforts promoting gender equality. The UN agency has been recording a low share of patents registered by women.
Tang also visited the Jožef Stefan Institute, where he took part in a discussion on intellectual property and commercial use, which concluded that thoughtful commercialisation can be an excellent source of funding for further research and development.
He said that Slovenia had an excellent university network, and that it could boast of excellent experts who were aware of the importance of protection and commercialisation of intellectual property.
The UN official also said that intellectual property had been perceived only from a legal point of view for a long time, adding that thoughtful and effective commercialisation of innovations could enable successful financing of further development.
Tang noted the importance of branding as a strategic marketing investment, while University of Ljubljana Rector Gregor Majdič said that researchers often faced problems when innovation and related technologies had to be put into practice.
One of the biggest problems is that in many cases investors have no patience with start-ups that become profitable only after a long time, the rector added.