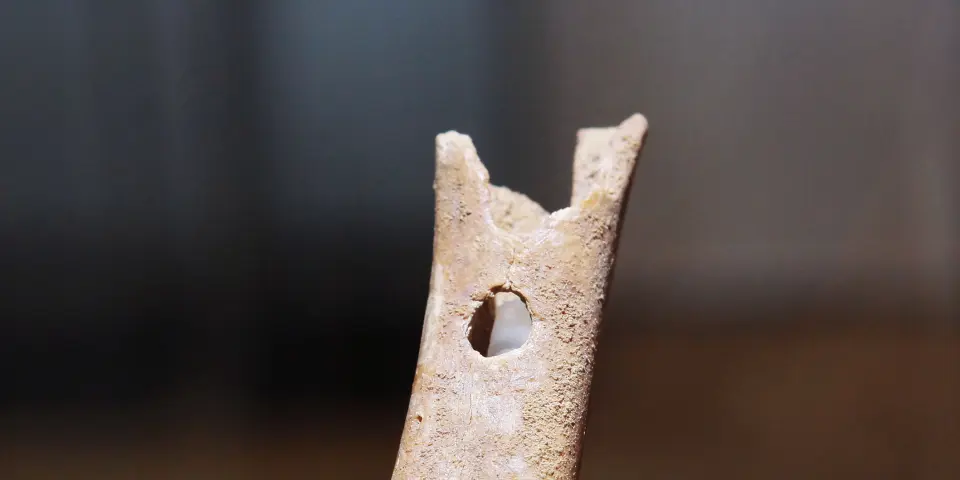 Precious archaeological finds from Slovenia put on show in Frankfurt
Frankfurt, 12 October - Around 115 archaeological artefacts found in the territory of present-day Slovenia were put on show at the Archaeological Museum in Frankfurt on Thursday as part of events accompanying the country's guest-of-honour appearance at the 75th Frankfurt Book Fair next week. It will be on until 17 March 2024.
Tweets from the Past - Slovenian Archaeology through Sounds, Symbols and First Written Words features 110 original items, five copies and one reconstruction.
Visitors can see rattles that children played with, figurines, Venetian inscriptions, and a flute made of bone that was found in Divje Babe Cave in 1995.
The flute is some 50,000 to 60,000 years old, which makes it the oldest known musical instrument in the world.
The initiative for what is the first exhibition dedicated exclusively to Slovenian archaeology in German-speaking countries had been given by the Archaeological Museum in Frankfurt, and was prepared by the the National Museum of Slovenia in collaboration with another nine Slovenian museums.
Each item tells its own story from the most important archaeological sites across Slovenia. Project manager Daša Pavlovič, a curator from the National Museum, said the headline of the exhibition refers to the now renamed social media Twitter in terms of brief messages from the past without a context.
Pavlovič understands archaeological finds in a similar way - we know what purpose they served, how and why they were used, but we don't know all of their meanings.
Two of the items exhibited in Frankfurt - the Divje Babe flute and a bone needle from Potočka Zijalka Cave - are so precious and sensitive while globally unique finds that they never leave their museums, the National Museum in Ljubljana and the Celje Regional Museum, respectively, so visitors in Frankfurt will only see their copies.
Among the items Pavlovič also highlighted is a peacock-shaped fibula from an archaeological site in Bled, north-west Slovenia, from the 5th or 6th century AD.
"The peacock now symbolises vanity and prestige, while it used to have a much more positive meaning. In ancient Greece it was a hundred-eyed guardian of goddess Hera and in Roman times it escorted the deceased empresses to the sky. The peacock of the 5th to 6th century fibula ... symbolises Christianity, as [the bird] symbolised immortality and eternal life," she explained.
"By presenting all these outstanding archaeological artefacts from ten renowned Slovenian museums, the Archaeological Museum Frankfurt wishes to underline the extraordinary importance of the Slovenian territory in prehistory and throughout history," wrote Wolfgang David, executive director of the Frankfurt museum.