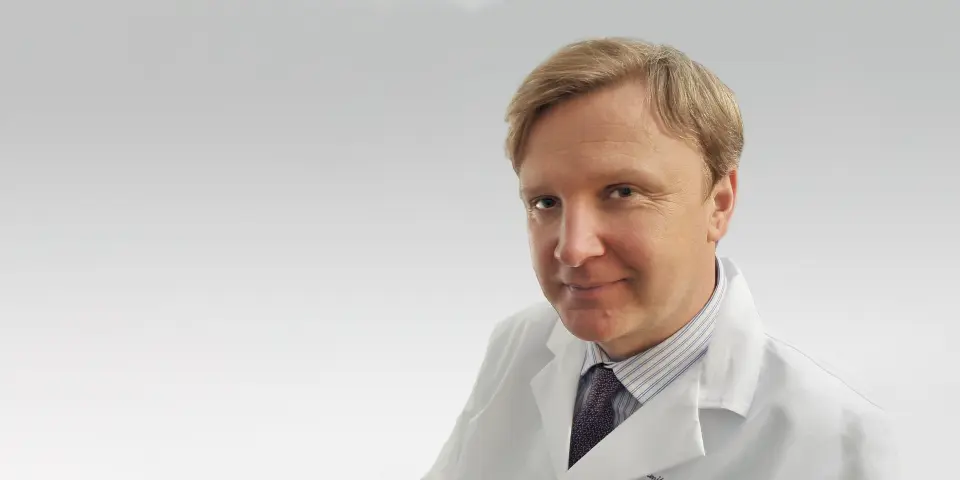 Dimitri Krainc, Slovenian at the helm of American Neurology Association
Ljubljana, 16 October - Dimitri Krainc, a Slovenian neurologist and scientist, has been elected president of the American Neurology Association (ANA). As president he will seek to better connect the association with neurologists around the world, and hopes for more collaboration with Slovenian neurologists and students.

Founded in 1875, ANA is the foremost professional association of academic neurologists and neuroscientists from the United States and around the world, dedicated to advancing research and treatment of diseases of the nervous system.
Krainc, chair of the Department of Neurology and director of Simpson Querrey Center for Neurogenetics at Feinberg School of Medicine in Chicago, has told the STA that he is honoured to have been elected ANA president, a position that most prominent neuroscientists or neurologists are traditionally selected for.
"If you look at who the presidents have been in the past - they are leading experts who have made great contributions to the advancement of neurology over the last century," he said. Krainc will also be the first non-American president in the association's 150 years.
He would like to be an active president and make some substantive changes. Key among them is the desire to link ANA with international neurological associations and neurologists around the world, including, for example, in sub-Saharan Africa, where there is a shortage of neurologists, and to help train young professionals in these regions.
"This is important because science is increasingly global too. For example, we need to include patients from different parts of the world in clinical studies so that the results of these studies are applicable to all populations, not just those who live in the US or Europe, for example, where most of these studies are carried out."
Forging ties and globalising advanced technologies
He would also like to forge closer ties with Slovenian neurologists and students. He is currently working with Slovenia mainly through the American Slovenian Education Foundation, as part of which he hosts one or two Slovenian students in the US each year.
"I find that's essential - that young people go out into the world and then come back home and implement what they have learned abroad. This will have a long-term impact on Slovenian medicine and science," said Krainc.
He also plans to work towards greater globalisation of certain advanced technologies, from genetic testing to the study of diseases through new procedures that represent steps towards more personalised medicine.
"We are moving towards personalised medicine, but for that you need a certain research infrastructure and skills. An organisation like ANA can serve as a catalyst here - it can play an important role in getting the word out about this kind of research, in creating collaborations around the world and in ensuring that research is conducted in an ethical way."
Shifting from clinical to more biological diagnosis
He sees several challenges ahead in the treatment of neurodegenerative diseases. Among other things, he believes that patients will need to be studied in light of their diverse genetics and biological background. Patients may have the same or similar clinical diagnosis, but have very different mechanisms leading to their disease. This is often the reason why clinical studies fail, Krainc explained.
"In a clinical study, a small group of patients may respond positively, but because they are grouped with other patients who may have a different biological basis for the disease, the study is considered a failure.
"It is an important challenge to classify patients not only according to clinical diagnosis, but according to what the specific features of their disease are - what genes cause it, what the changes are in the brain and in the brain cells. It's a shift from a clinical to a more biological diagnosis of the disease," Krainc said.
Preventing disease a key challenge
A related challenge for the future is how to identify who is more susceptible to a particular neurodegenerative disease, and even more importantly, how to prevent these people from developing the disease in the first place. Krainc is also working in this direction, and his recent research interests include induced pluripotent stem cell research.
"We take a small sample of the patient's skin and use it to make stem cells, which are then used to make patient-specific neurons or nerve cells, without having to touch the patient's brain. We then compare the patient's nerve cells with those of other patients with a similar clinical diagnosis and with healthy subjects, and then try to develop appropriate therapies to correct the malfunctioning nerve cells specifically from these patients."
Krainc chairs the Department of Neurology and heads the Simpson Querrey Center for Neurogenetics at the Feinberg School of Medicine in Chicago. Previously, he spent more than two decades at Massachusetts General Hospital and Harvard Medical School, where he completed research and clinical training and served as professor of neurology.
The main goal of his research is to study the molecular mechanisms of neurodegeneration, with a focus on Parkinson's and Huntington's diseases, and to enable the development of targeted therapies in this field.
He has received many awards for his work and was the first Slovenian in history to become an academician of the prestigious National Academy of Medicine, part of the National Academies of Sciences, Engineering and Medicine in the US.