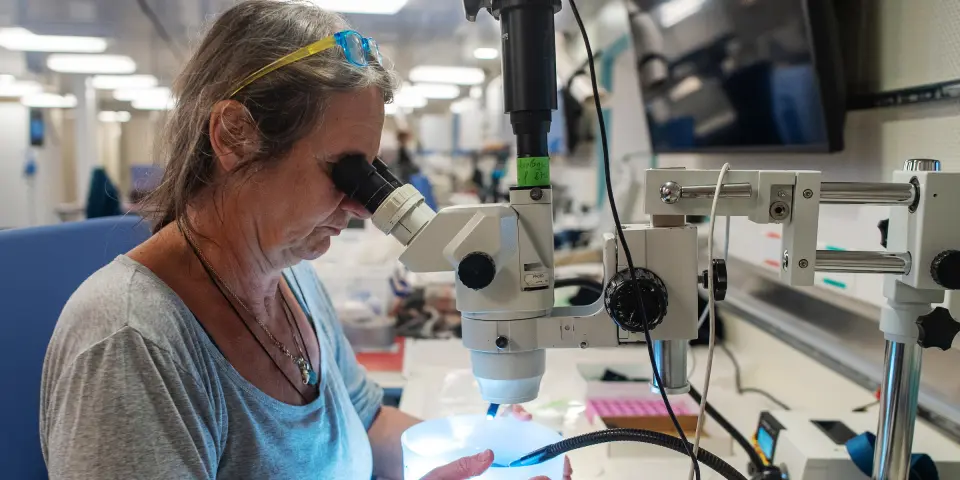 Slovenians part of research team that discovered new ecosystem in volcanic seabed
Piran, 18 November - This summer, two members of the Piran Marine Biology Station of the National Institute of Biology took part in an international research expedition in the Pacific that uncovered a whole new ecosystem in volcanic cavities beneath hydrothermal vents at the depth of around 2,500 metres.

The team believes that their discoveries will help explain how animals living under the ocean floor travel with the help of hydrothermal fluid to colonise new habitats.
Tinkara Tinta, a marine microbial ecologist, and expert diver Tihomir Makovec were a part of a month-long expedition dubbed Underworld of Hydrothermal Vents onboard the research vessel Falkor (too) of the Schmidt Ocean Institute. The mission was led by Monika Bright, a professor at University of Vienna.
"This was one of the few, if not the only, deep-sea expedition involving a Slovenian research institution," Tinta said on Wednesday, during Bright's visit to the Piran Marine Biology Station.
The 20-member research team from the US, Germany, the Netherlands, France, Costa Rica and Slovenia, and a 35-strong crew sailed out to the East Pacific Rise off Central America, some 2,500 kilometres off-coast, where a remotely operated vehicle (ROV) was deployed to the ocean bed.
Technicians operating the ROV called SuBastian chipped away chunks of volcanic crust that forms when the upper and lower layers of magma separate due to seawater condensations, creating a cavity system which has been found teeming with worms, snails and chemosynthetic bacteria, all living in 25 degrees Celsius water.
Holding a lecture in Piran this week, Bright said it was well known that the surface and the edges of hydrothermal vents are home to a very biodiverse communities, but this expedition was the first to look under the surface.
The mission also confirmed her hypothesis that animals inhabiting hydrothermal vents travel through the vents with the help of hydrothermal fluid to colonise new habitats.
This discovery was especially interesting in the case of tubeworms. Before this summer, scientists had no clear understanding of how they came to be in these ecosystems because their larvae had not been detected before Bright's team looked under the crust and explored the cavity systems under the vents.
Taking part in the lecture, Tinta said she studied the production of viruses, which can have a significant effect on the circulation of material in such systems and the dynamics of the microbial population. "Before, we knew virtually nothing about this."
Makovec was a part of the technical team that took care of the equipment, was also involved in some experiments and took care of the samples.
The research team believes that the bustling ecosystem they discovered added a new layer of complexity to the hydrothermal vents ecosystem, located in an inhospitable environment. Meanwhile, Bright hopes that the understanding of internal workings of hydrothermal vent ecosystems will help protect them.