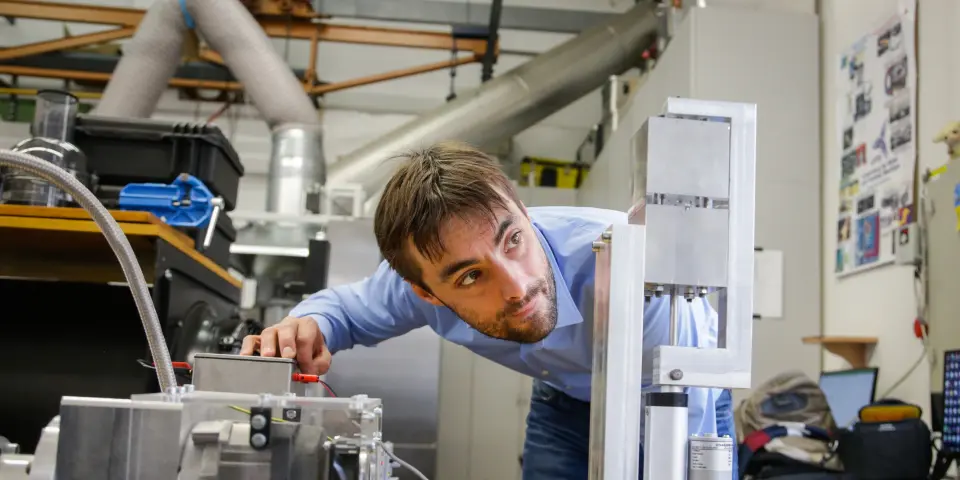 Slovenian researchers point to new possibilities of environmentally friendly water purification
Ljubljana, 9 January - Slovenian researchers have made a landmark discovery which points to hydrodynamic cavitation as an energy efficient and environmentally friendlier method of water purification. The research has earned the project a EUR 2m grant from the European Research Council (ERC).

Head researcher Matevž Dular told the STA that cavitation, which was considered a nuisance in mechanics because it can damage piping systems, can actually remove various pollutants from water.
To test the potential for water purification, the research group from the Ljubljana Faculty of Mechanical Engineering developed various applications and patented them, a rotation generator of hydrodynamic cavitation key among them.
What is cavitation?
Cavitation is the formation of vapour bubbles in a liquid due to rapid changes in pressure. The bubbles of vapour form at the point of low pressure, but they implode when subjected to higher pressure.
The implosion can create intense but split-second shock waves with extremely high pressure (up to 1,000 bar) and temperatures (up to 10,000 degrees Celsius). These extreme conditions can damage biological structures such as bacteria or even viruses.
Cavitation is cheaper and energy and environmentally friendlier than traditional water treatment
Traditional water purification procedures use chemicals, which can be harmful to human health. Cavitation works on a purely mechanical basis by creating extreme local conditions which cause the disintegration of biological structures.
Eliminating biological structures is a major concern for piping systems, especially in health institutions. To combat pathogens such as the Legionella bacteria, institutions use various measures, including thermal shocks, which are very costly and stress the piping system.
Compared to these, cavitation is much safer at a fraction of the cost. In addition, it ensures that levels of Legionella in water systems remain constantly low, Dular noted.
The researchers also managed to eliminate pharmaceuticals, cyanobacteria and algae with hydrodynamic cavitation, and pointed to the possibility of deactivating viruses.
Their research on removing Legionella from water systems has been published in Ultrasonics Sonochemistry, and their research on the potential to deactivate viruses in Water Research.
ERC funds to be used to seek answers about unknown cavitation facts
"We don't know how well this really works. We can say that cavitation works ten times better with Legionella than thermal shocks, but we don't know if the procedure can be improved to make it 100-times better," Dular added.
His team will seek answers to this and other questions as part of a project called An Investigation of the Mechanisms in the Interaction Between Cavitation Bubbles and Contaminants (CABUM), which is funded by the ERC.
Having received nearly EUR 2m for the five-year project, the team will work on the "very basic mechanisms - what really happens between a bacteria and a single cavitation bubble".
Dular hopes that the research will lead them to creating a device that will be environmentally-friendly, energy-efficient, and safe enough so it can be installed in a swimming pool for children.
Over the past few years, the researchers have made a number of global connections, which was "also a factor that convinced the commission to award us the funds".
The funding will allow the team to employ seven biologists, physicists and engineers, bringing the total figure of people working on the project to 12.
Dular, who works at the faculty's Laboratory for Hydraulic Machines, managed to convince three former colleagues to return to Ljubljana after they had left the country due to a lack of funding.
"This is the idea, to get the knowledge back to Slovenia and use it to move forward," he said.
About Matevž Dular
Dular graduated from the Faculty of Mechanical Engineering in 2002 and defended his doctoral thesis three years later. He received tenure in 2017.
Dular has worked at universities in Germany, France and the US and has headed several projects for the European Space Agency.