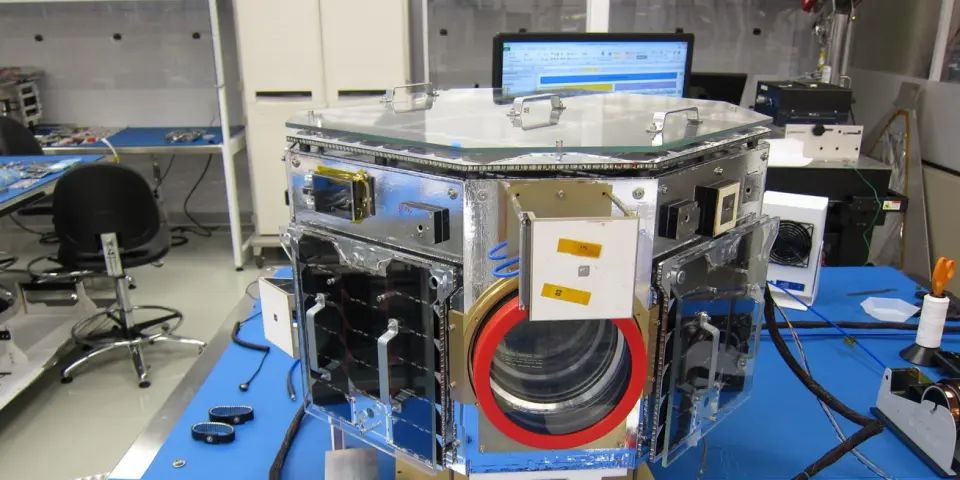 Slovenia ever closer to launching first satellite
Ljubljana, 29 November - The government discussed on Thursday the launch of Slovenia's first satellite to space and finalised the contract to co-fund the project, estimated at 1.9 million euro.
Nemo-HD was developed by Vesolje-SI, the Slovenian centre of excellence for space sciences and technologies. It is scheduled to be sent into space in 2019 aboard a Vega rocket launched by Arianespace.
"This is an important project with which Slovenia will join the countries which already have a satellite in space," Minister of Economic Development and Technology Zdravko Počivalšek told the press after the government session.
He believes it will enable many Slovenian hi-tech companies from the field of space technology to apply their know-how.
Thus, the companies have a chance to play a more active role in this field, facilitated by Slovenia's associate membership of the European Space Agency.
Počivalšek said the bulk of the funds would come from his ministry, with the ministries in charge of the environment, science and agriculture also taking part.
"The data sent in by the satellite will be used for agriculture, forestry, smart cities, natural disasters, for monitoring climate change," he explained.
The 65-kilo micro-satellite will be orbiting Earth at an altitude of 600 kilometres producing panchromatic and multi-spectral images of Earth's surface.
The satellite is a collaboration of Vesolje-SI and Canada's lab Space Flight from the Institute for Aerospace Studies at the University of Toronto.
It will be part of the European Copernicus system, also serving as Slovenia's own source of images for agriculture, forestry, urbanism, transport and ecology.
The government also said in a release the launch would be a historic event for Slovenia in terms of joining the countries with a satellite in space.
Slovenia plans to launch another satellite - nano-satellite Trisat - next year.