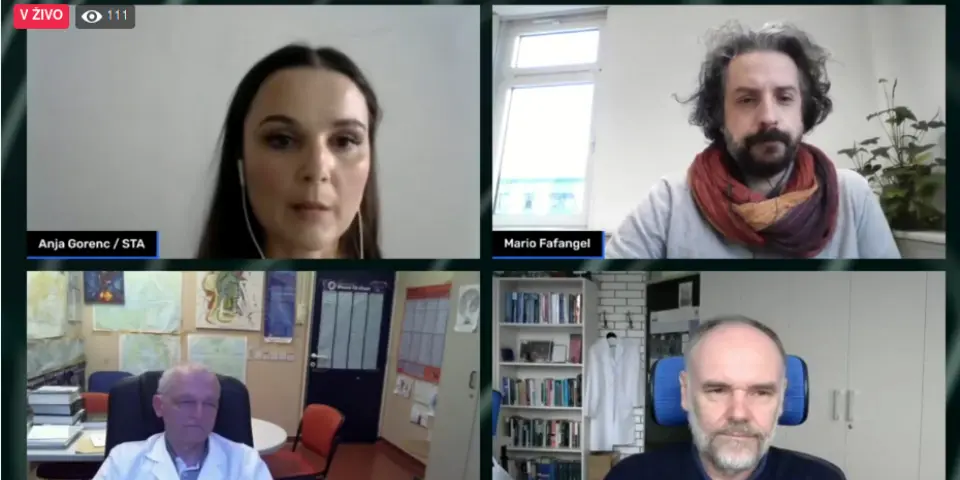 Widely available vaccine solution for Covid-19, panel hears
Ljubljana, 11 January - A panel hosted on Monday by the STA as part of its science debates series concluded that a safe and effective vaccine was a milestone in the fight against the Covid-19 pandemic and that it needed to be available as soon and as widely as possible in the entire world.

Alojz Ihan, the head of the microbiology and immunology department at the Ljubljana Faculty of Medicine, said that if "pockets are left for the infection to keep spreading, we will be close to mutations occurring and the problem becoming even greater".
A similar opinion was presented by Mario Fafangel, the head of the Centre for Communicable Diseases at the National Institute of Public Health (NIJZ), who said that it was not the small difference in the efficacy between vaccines that people should be focused on.
"Availability is what makes the difference at the population level. A highly effective vaccine in small doses that will be available in unspecified time does not help at all," he added.
Ihan noted that, in order to cover as large part of the population as possible, some European countries had decided to postpone vaccination with the second dose of Pfizer vaccine, which under the producers instructions needs to be administered in three weeks.
According to him, the first persons to get vaccinated in Slovenia, who will soon be in for the second dose, will be vaccinated in accordance with these instructions.
Roman Jerala, the head of the synthetic biology and immunology department at the National Chemistry Institute, said that while he understood that instructions needed to be followed, pragmatism was also needed in an extraordinary situation.
Fafangel said that the pace of vaccination could be changed if the supply of vaccine increased noticeably.
Jerala said that clinical studies of vaccines based on the new technology of information RNK had been started years ago and had shown that vaccine was safe.
"Considering the mechanics of operation, I see no possibility for the vaccine to cause undesired side effects which would be worse than in other vaccines," he added.
Ihan noted that possible long-term side effects would be known after a year or two of monitoring, but they were unlikely given the structure of the vaccine. "It contains a minimum number of components, only lipids and information RNK."
Fafangel said that the most common side effect was local reactions after vaccination, adding that the NIJZ had so far received 54 reports of undesired events that coincided with vaccination, which had been mostly mild.
According to Ihan, Pfizer and Moderna vaccines provide a high level of protection, at a rate of above 90%. Those who get vaccinated may count with high certainty that they would not get infected, and it is also not possible to fall ill due to vaccination.
Care home residents who were confirmed with coronavirus infection soon after vaccination, had been in contact with the virus previously or before protection developed after the vaccination, explained Fafangel.
Jerala said that, given the current results, protection after vaccination lasted for at least eight months.
There is no information on how the vaccine affects the transfer of infection, which means that protective measures remain in force as only a small share of the population has so far been vaccinated, added Fafangel.