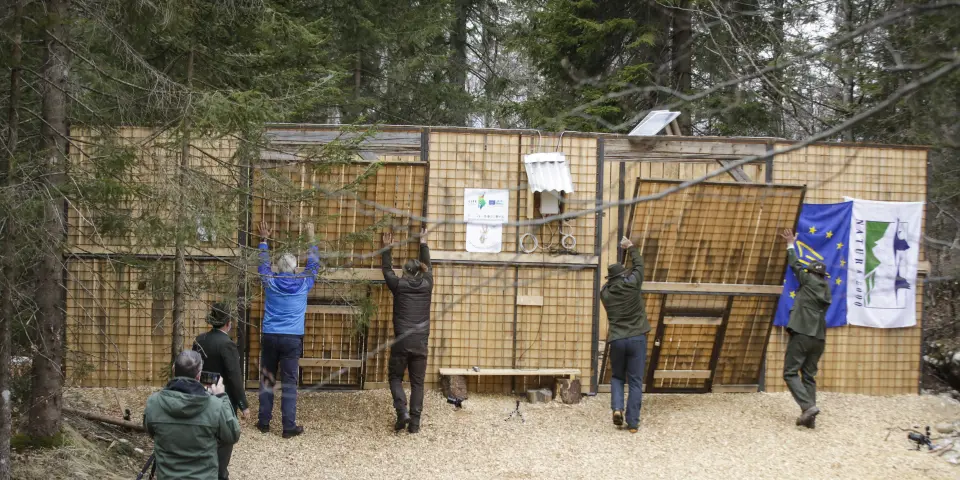 Two lynxes released into the wild in Gorenjska
Bohinj, 26 April - Two lynxes, a male and a female, were released into the wild in Jelovica Plateau on Monday, a part of efforts to reintroduce the species to north-western Slovenia after a successful rejuvenation of the lynx population in the south of the country.

Named Zois and Aida, the animals were translocated from Romania and will help improve the long-term prospects of the Dinaric-Alpine lynx population, which had been severely inbred and on the verge of extinction not long ago.
On Wednesday, three more will be released into the Triglav National Park, according to the researchers behind LIFE Lynx, an EU-funded project concerned with preserving the Dinaric-Alpine lynx population.
The project is led by the Slovenia Forest Service, whose director Janez Logar said today that lynx was a keystone species in forest ecosystems and a species that very rarely came into conflict with humans.
The project has been under way since 2017 and overall 14 animals will be translocated from Romania and Slovakia to improve the genetic pool of the local lynx population.
Six have so far been successfully released and the three more on Wednesday will take the project significantly over the halfway point.
Lado Bradač, the president of the Slovenian Hunting Association, noted how people used to fear lynx, but during the course of the project local populations have become more accepting of the species.
"I'm confident lynx will live here for a long time," he said, adding that he had confidence in the local hunting club as well.
The demise of the Slovenian lynx population started about 150 years ago as people's tolerance to sharing their living space with large predators started to erode and local deer populations declined.
In 1973 forward-looking hunters reintroduced the species around Kočevje in south Slovenia, in what was one of the most successful reintroductions in Europe, according to LIFE Lynx coordinator Rok Černe.
The population thrived for a while, but inbreeding started to take its toll and it was reduced to no more than 20 animals just a few years ago. Were it not for translocation, it would become extinct once again, according to Černe.
"Our goal here is to establish a population that will connect in the long term with Italian and Swiss lynx populations, facilitating a natural flow of genes and rendering translocations obsolete."
According to Černe, Slovenia is big enough to sustain a population of roughly a hundred lynxes.