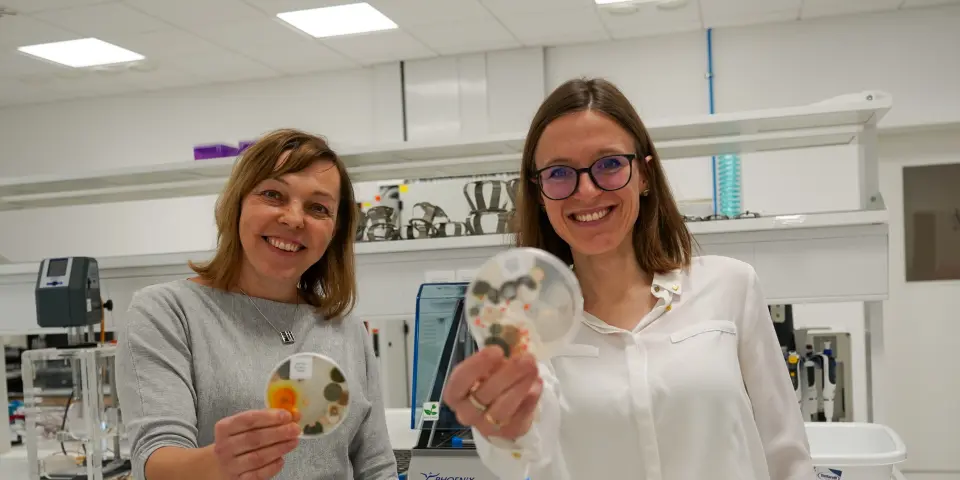 Slovenian researchers fight wood decay with living coatings for material self-healing
Ljubljana, 30 December - Wood could lead the construction sector into a more sustainable future. A key challenge is the material's sensitivity to external impacts, such as moisture. The InnoRenev CoE reseach institute in Izola is developing a breakthrough protective coating from living fungal cells that can heal and regenerate.

Construction is responsible for 30 to 40% of all carbon dioxide emissions, uses 30% of all natural materials and produces as much waste, according to some estimates. Wood is an excellent answer to those challenges, says Izok Šušteršič, leading the sustainable construction research group at the InnoRenew CoE institute.
Similarly, the European Union sees construction with wood as one of the ways to reduce greenhouse gas emissions by 55% by 2030 and reach climate neutrality by 2050.
Wood is a sustainable material as it is not a source of carbon dioxide but rather a way to use it. "A tree needs sunlight, water and carbon dioxide to grow. And when you burn a piece of wood, it will release just as much carbon dioxide as it needed to grow," says Šušteršič.
"Wood is carbon neutral. By using it in construction for a long time, we can in a way store the carbon dioxide," says Šušteršič. Using wood could transform construction from a source of carbon dioxide emissions into an industry that helps decrease them.
According to Šušteršič, after a building has served its purpose it should not be simply deconstructed with its parts taken to a landfill. "We should use the components somewhere else and only in the very end use them for energy," he said, adding that "It is the reuse of the material in combination with a sustainable forest managements that allows for a true carbon neutrality."
Gap between practical experience and quick rise of wood construction
In the last 20 years wood construction has progressed a lot, but there is still less experience than with building with concrete, steel or brick. "Concrete has seen it all; from floods, earthquakes, fires ... while wooden buildings have not," says Šušteršič, adding that there is a lot of data and research, but the practical experience is still lacking. "Building with wood requires more coordination and cooperation between industries - a more holistic planning."
In February of 2022 the InnoRenew CoE institute opened in Isola to research wood and other sustainable materials, such as hemp and flax. The institute resides in the largest wooden building in Slovenia, constructed using nearly 1,000 m3 of wood.
The building itself and many of its parts are involved in the research. 130 sensors are embedded into the building to help the researchers understand how the building behaves and affects the people in it. The sensors measure the quality of air, temperature and moisture in the layers of the facade wall. One of the institute's goals is to be able to predict how a certain type of wood with certain improvements will behave, "how the piece of wood will look on a building in a year, 10, 20, depending on where the building is located," says Šušteršič.
Different mistakes in projecting or construction lead to wood decay, which is why the trend is moving towards embedding sensors into buildings. Mistakes can otherwise be seen only years after they are made when fixing the problem is much more difficult than in the early stages.
Wood is a material that deteriorates. It is much more sensitive to external factors, especially moisture. Researchers are looking for ways to protect it, "so we can use it not only sustainably but also durably," says Šušteršič.
Fighting wood decay with live organism coatings
To protect wood against its biggest weakness, decay, it is covered in protective coats. They protect the surface of materials to increase their functional and aesthetic durability. The coats often contain harmful substances - biocides, mineral oils or synthetic chemicals that improve efficacy but are toxic and harmful to the environment.
Through an ERC project titled ARCHI-SKIN led by Anna Sandak, the institute hopes to revolutionise material protection. They want to develop a new generation of living coating systems made from cells of living organisms, such as fungi.
Materials from lab-grown fungi already exist. Several fashion brands are using fungi to create leather-like materials. But materials that InnoRenew is trying to develop are a few steps ahead. They are not just "dead" materials made from fungi, but contain living fungal cells that feed, reproduce and can also regenerate and heal if damaged
"We dream of materials that are alive, active and do much more than just protect. Imagine that buildings in large cities could be coated in living cell coats that could produce oxygen to clean the air or that could emit light," says Sandak on the possible applications.
The global market of exterior architectural coatings was estimated at EUR 42 billion in 2021 and should grow to EUR 53.5 billion in 2027. In 2020 50 billion litres of coatings were produced, which shows an enormous market potential.
Fungus biofilm also part of research
As part of the project, biofilm, one of the oldest biological systems on Earth, is being researched as a key ingredient for new coatings. The researchers are focusing on fungus biofilm that is relatively unknown. According to Sandak, fungi are great candidates for biofilm creation since they are adapted to grow on surfaces.
Although fungi are usually known to decompose organic matter and can cause wood decay, they can also have a positive effect. If properly managed and maintained, they can develop a robust biofilm that can actively protect materials - wood, but also concrete, plastic or metal - from different biotic (like other fungi) and abiotic (UV light, moisture, pollutants) factors.
"The main advantage of this approach is that it acts in synergy with nature and not against it and that it uses a completely biologic concept to protect materials," says Sandak.
This is how they solve the problem of one of the most time-consuming processes in material renovation - removing old layers of coats. Their coats from living cells do not need to be removed. Oil, such as flaxseed or other oil, should be applied to feed the fungi. In optimal conditions the fungi will grow quickly and protect the wood, otherwise they will hibernate and wait for better weather, says Sandak.
Still early in the research
The project started in September of 2022, so they are still in the early stages, says post-doctoral researcher Karen Butina Ogorelec. In the first part of the project they are focusing on a natural colonisation of fungi on different materials. The researchers have created an installation on the roof with more than 90 different materials that are facing different directions and are exposed to the weather.
They regularly take samples from the materials to find which types of fungi can stay and grow on them and how the position and season affect the fungi colonisation. They perform in vitro experiments to learn more about the fungus in the centre of their research, the Aureobasidium pullulans, and develop new methods to track its growth on surfaces.
Butina Ogorelc hopes their findings will aid the coating industry move towards more sustainable coatings with higher functionality. Researchers also wish to further the development of microbiology that they are innovatively combining with material research and construction.
"More broadly speaking we hope that we will encourage people to think different and see biofilm as something positive that can benefit us - if we understand it well enough," says Butina Ogorelc.
"I believe that the field of living coatings and the broader field of living materials will soon bloom. I think it can offer some important strategies to mitigate climate change and pollution and bring more nature into our constructed environment. I also expect that the concept of smart living materials will not be limited to construction but will spread to other industries. We could use a protection coat for ships and cars as we do for buildings."
The knowledge they will gain during the project could be used beyond the science of materials in biotechnology, medicine or pharmacology, says Sandak.