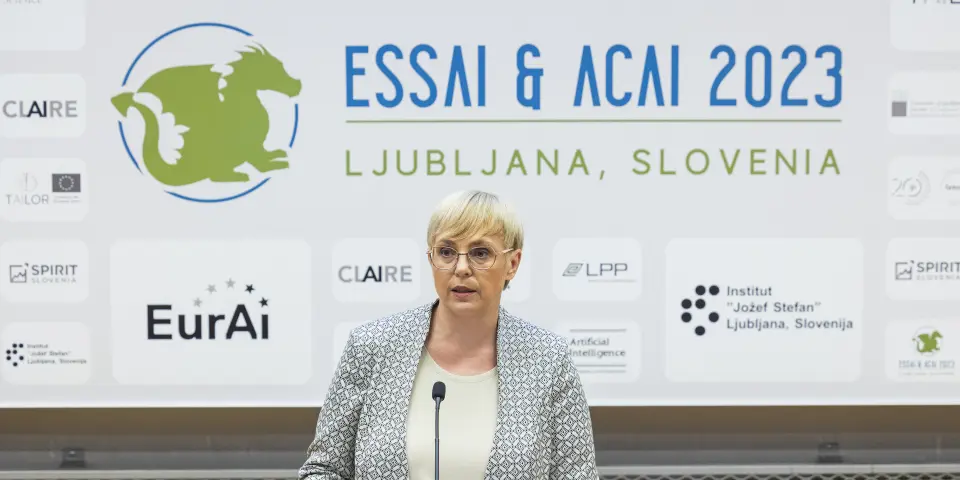 Ljubljana hosts European summer school on AI
Ljubljana, 24 July - The 2023 European Summer School on Artificial Intelligence (ESSAI 2023) opened on Monday at the Ljubljana Faculty of Computer and Information Science, featuring until Friday courses and lectures by as many as 60 world-renowned experts. The event is seen by the organisers as potentially encouraging development of AI in Slovenia.

ESSAI 2023 features experts from the universities of Stanford, Yale, Washington, Oxford, Cambridge, KU Leuven, TU Darmstadt, Italy's Sapienza, France's CNRS and from companies such as Google Deep Mind, Microsoft, and VMware Research.
The head of the local organising committee, Vida Groznik from the University of Ljubljana, has said that the conference will be attended by over 630 participants from all parts of Europe, North and Latin America, and Asia, or more than 40 countries.
It will feature researchers, students, AI experts and representatives of leading global companies in this field.
Groznik has noted that, as recently the talk has mainly been about large language models such as Chat GPT, the event in Ljubljana wants to present all the dimensions and versatility of AI, so it will feature as many as 36 various courses.
The courses will cover planning and investigation, automation of machine learning, large language models, reinforcement learning, robotics, impartiality, and fairness and privacy in AI.
One of the sections will be dedicated to the use of AI to discover new knowledge in science, including biology and genetics, Earth and life sciences, formalisation of knowledge, automation of scientific research and quantum machine learning.
Groznik has said that the summer school could have a significant impact on the development of AI in Slovenia, while attracting the attention of the broader international public, bringing many opportunities for cooperation and development.
Honorary sponsor of the event, President Nataša Pirc Musar addressed tonight's opening ceremony, saying that a shortage of experts will be one of the challenges in AI.
"AI is being already used to a large degree, and demand for trained experts will continue to increase. Part of the solution are events such as this summer school," said Pirc Musar. She urged attracting more girls to STEM and creating favourable conditions to attract qualified workers to Europe.
The president believes that Slovenia has achieved incredible progress in AI, with its researchers contributing to algorithms, hosting important conferences and nurturing an environment of innovation. The government, too, is aware of the role of AI and has included it in the national strategy of digitalisation.
Pirc Musar will attend some of the courses and talks this week. In fact, she attended today's lecture given by Data Science researcher Tijl De Bie, who said the greatest challenge in AI is how to use all of its positive potential, while not neglecting its negative implications.
"AI is related to an increasing number of areas in our life and our future," Sašo Džeroski, programme chair of the Advanced Course in AI, said as the event opened. He believes the summer school is an excellent opportunity for know-how transfer, including onto the young.
Aleksander Sadikov, head of the Slovenian Artificial Intelligence Society (SLAIS), is pleased that "the summer school is taking place in-person in this post-Covid period, that people came to Ljubljana, are socialising, making new friends and forging mutual connections".
He believes that for SLAIS and for AI in Slovenia, this is the greatest way to celebrate the association's 30th anniversary and the 50th anniversary of the start of AI research in Slovenia, both marked in 2022.
The premiere European Summer School on Artificial Intelligence (ESSAI) is a collaboration of the University of Ljubljana with the Jožef Stefan Institute and the University of Primorska.
The event was established by merging the summer school which was organised in the last two years as part of the EU project TAILOR and the specialised AI course called the Advanced Course on AI (ACAI), and is held under the wing of the European Association for AI (EurAI).