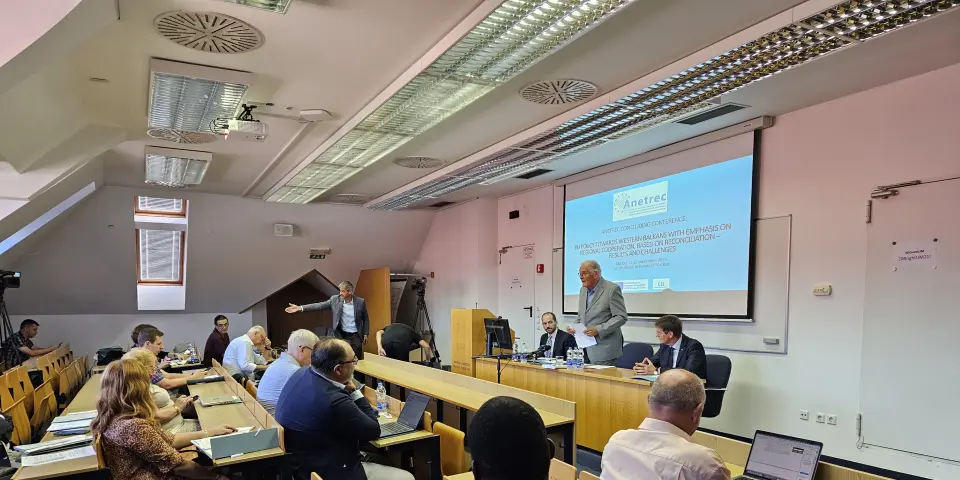 Researchers stress importance of reconciliation in W Balkans
Maribor, 11 September - A two-day conference on the EU's policy on the Western Balkans started at the Maribor Faculty of Law on Monday to wrap up a four-year project, as part of which professors and students from many countries have been discussing the importance of reconciliation and cooperation in the region's efforts to join the EU.
Coordinated by the Maribor Institute for Ethnic and Regional Studies (ISCOMET), the project featured more than 60 professors and researchers from universities and research institutions from Slovenia, Croatia and Western Balkan countries.
Reconciliation and cooperation are one of the crucial parts of success in the EU accession processes in the region, said the project's coordinator Silvo Devetak.
"The academic network supporting EU policies towards the Western Balkans with emphasis on regional cooperation and reconciliation between nations in the region (ANETREC) aimed primarily to mobilise the academic sector, students and, to some extent, civil society to realise these objectives," he said.
The project produced papers on the future of the Western Balkans and developed a joint online educational programme for which professors from the participating universities recorded 75 lectures and which is available to all interested educational and research institutions in the region. Moreover, a summer school was organised in North Macedonia.
At the end of the conference, the goal is to adopt the "Maribor declaration", which will suggest to add proposals on regional reconciliation and cooperation to EU or other international policies towards the Western Balkans. One of the proposals will be to set up an EU reference centre dedicated to Western Balkan issues.
Addressing the conference in a written statement, EU Enlargement Commissioner Oliver Varhelyi said: "Your support is welcome, because you provide the intellectual foundations in the region for this challenging process."
EU enlargement remains one of the bloc's priorities, he said, adding that efforts to step up EU accession in the region required political will and hard work from both sides. "It is doable," he said.
Ezio Benedetti, an expert on EU law, international public law and human rights who collaborates with the ISCOMET institute, believes that the actual enlargement to the region is still far away.
"The EU has other priorities," he said, also noting socio-economic issues and threats to democracy in the Western Balkan countries. "The young are moving away, the elderly have nothing to live off, and all of this affects the political situation too," he added.
The researcher sees another problem in the fact that reforms set by the EU did not bring about the expected results. "We need to ask ourselves urgently why the EU no longer has this transformative power we thought it had," he told the STA.